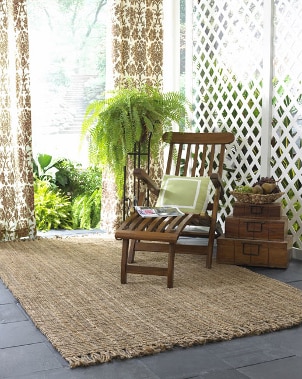 Bohemian style should look effortless. In essence, it's about creating a vibe that is comfortable and organic. A far cry from the formal spaces seen in the glossy pages of a home decor magazine, bohemian style is about cultivating a room tied to together with treasured keepsakes and earthy prints. No bohemian-themed room is complete without an area rug that is eco-friendly and serves as a landing place for large floor cushions or a stack of mattresses.
Bohemian-Style Rugs:

Jute rugs: Jute rugs are made of woven jute plants that produce a glossy fiber that looks like straw. The rugs are extremely durable as well as affordable. The natural beige color of jute fits in with the bright colors of a bohemian room and can even be used outside to create a patio space.

Flokati rugs: Made of shaggy sheep wool that is fluffed in a river before being sold, flokati rugs are soft and all-natural. These rugs often make their appearance in modern rooms, but they also fit the bohemian vibe perfectly. Place a cream-colored flokati rug under a rustic wooden table topped with homemade pottery pieces or place one under a vintage couch with mismatched throw pillows.

Nature-themed rugs: Don't forget about printed rugs with nature themes when you're going for bohemian style. Colorful rugs with images of flowers make your room look fresh and comfortable, and rugs with leaves and branches can create a calming effect in your peaceful abode.

Bamboo rugs: Bamboo is one of the most eco-friendly materials available. The large abundance of existing bamboo has made it a popular textile for creating home decor items like sheets and area rugs. Bamboo is versatile and can be soft, like cotton, or rough, like natural jute.

Kilim rugs: Kilim rugs are a more organic offshoot of the classic Oriental rug. The pattern woven into kilim rugs is typically more tribal-looking and has a flat pile. A geometric kilim rug infuses a bohemian feeling into a room, even if the rest of the decor is minimal. To get a bohemian bedroom, try placing a kilim rug under a bed made up with white linens and an antique headboard.
What Do You Want to Do Next?

Shop for Floral Rugs
Shop for Jute Rugs
See All Area Rugs
See All Guides
Read More Home Guides
Learn More about Area Rugs