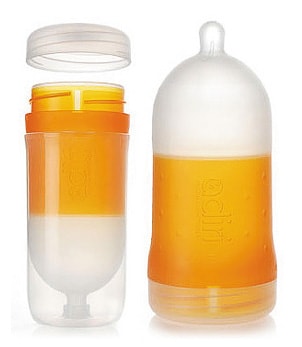 Feeding your baby can be difficult, especially if she's fussy, but Adiri nurser bottles can make things easier. Designed particularly for breast feeding babies, these baby bottles give you a convenient way to store breast milk and feed your baby when nursing isn't possible. Whether you're feeding your baby away from home, need to leave your little one with a baby sitter or want to give other family members the opportunity to bond with your child through feeding, Adiri nurser bottles can help. Read on to learn the top 5 benefits of Adiri nurser bottles.
Benefits of Adiri Nurser Bottles:

Natural shape: Since Adiri baby bottles are designed for nursing babies, their natural shape helps babies transfer from breast feeding to bottle feeding more easily. The shape of the baby bottle mimics the shape of a mother's breast, and the unique nipple of the bottle also mimics a natural shape. This helps prevent nipple confusion when you're switching between breast and bottle feeding.

BPA-free: Adiri nurser baby bottles are always BPA-free to protect your baby from potentially harmful chemicals. A known endocrine disruptor used in plastic production, BPA can interfere with your baby's hormones. Babies are particularly sensitive to BPA, so choosing BPA-free baby bottles helps you protect your little one.

Reduced colic: A common problem in bottle feeding babies, colic can be painful and uncomfortable for your baby. Adiri bottles have petal-shaped nipples that help prevent air bubbles and uneven flow, which typically cause colic.

Sizing: Adiri baby bottles hold 8 ounces of fluid. Depending on your baby's age, he or she will drink anywhere from 4 to 8 ounces at a time. The 8-ounce Adiri bottles have measurements marked on the side, making it easy for you to determine how much your baby eats. The right bottle size will also prevent unused milk from going to waste when your baby is finished eating.

Flow: There are three sizes of Adiri bottles available, each designed for a different stage of your baby's infancy. Stage 1 bottles have a slow flow to keep your baby from overeating and to prevent the milk or formula from flowing too quickly. Similarly, stage 2 bottles have a medium flow, and stage 3 baby bottles have a fast flow to keep up with older babies who can suckle much more quickly.

Buy Baby Bottles
Back to Guides Directory