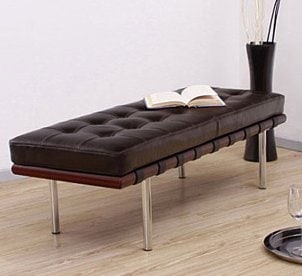 Adding fashionable and affordable benches to your home decor will turn your living room into an inviting place for you and your family and friends. Choosing a bench for your home lets you pick something that's uniquely you. It can be anything from wild and bold to subtle and simple. There are countless styles of benches available; in fact, the top five bench types are manufactured in a variety of styles, so finding one that adds some flair to your home shouldn't be difficult.
The Top 5 Benches:

Bed benches: These pieces of furniture that sit at the foot of your bed add function and fashion to any bedroom. They can be used as an extra seat, a place to lay out clothes or a storage place for extra blankets. Bed benches are also ideal for smaller spaces.

Hall tree benches: Hall tree benches aren't just stylish; they're functional as well. You can hang hats, coats, keys and a variety of other things on a hall tree bench. Many hall tree benches even include storage and cubby holes for shoes, umbrellas and handbags. Place it in your entryway so you can grab your jacket, bag or shoes when you dash out the door.

Leather benches: Leather benches are versatile and go well in any room. One popular use is as living room benches. They come in a wide range of sizes, and because of their neutral colors, leather benches fit any setting. Many leather benches come with storage options so you can keep extra throw pillows or blankets there when not in use.

Upholstered benches: Upholstered benches are stylish and comfortable. Whether you're lounging or entertaining guests, these benches are great for use as regular furniture. Add an upholstered bench to your living room and you'll always have enough seating for unexpected guests.

Storage benches: Get organized with storage benches. They're ideal for storing those extra items and clearing up clutter. Many benches, including the types listed above, can be storage benches. Storage benches can hold an extra blanket at the foot of your bed, house your collection of remote controls in the family room or serve as the catch-all in your front hallway. They camouflage clutter and help your home maintain a clean and organized appearance.

Buy Benches
Back to Guides Directory