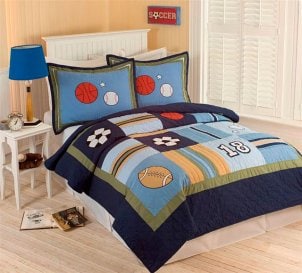 Decorating any boy's bedroom can be done easily with boys' bedding. As you are shopping for boys' bedding ensembles, you'll need to consider style, versatility and durability. Take a look below to learn the top five bedding ensembles for boys.
The Top 5:

Bed in a bag: This is the convenient, one-stop-shopping solution for selecting a boys' bedding collection. Most bed-in-a-bag sets include a comforter, matching sheet set and pillow shams. Some larger sets may include a bed skirt and pillow. If you don't have the time or energy to search for matching bedding that will fit his personality, bed-in-a-bag sets are ideal.

Quilts and quilt sets: Using quilts is a fun way to decorate, giving any bedroom a cozy, homey feel. Most quilts have intricate stitching and detailed designs that will last him beyond his childhood years. Buy the quilt separately and match the bedding or purchase a quilt set.

Separates: Boys' bedding choices are almost endless with separates; they allow you to purchase individual pieces geared to your preferred taste. From quilts to down comforters with duvet covers, from sheet colors to pillow covers: You get to make the final call. Bedding separates offer you a fun way to put your creative ideas to the test.

Crib bedding ensembles: Take your baby boy into the toddler years with a versatile crib bedding set. Most crib ensembles include a fitted sheet, a flat sheet and a comforter or quilt. They're ideal for transitioning from a crib to a toddler bed. By taking select pieces from your son's crib set, you can maximize your purchase and spend less time worrying about shopping for bedding.

Travel sets: These sets are ideal for traveling to Grandma's house or for use in daycare. These lightweight sets include sleeping mats, fleece blankets and soft, plush pillows. Roll them up and use the convenient carrying handle for kids on the go. Store one in the car and keep one in your home so that no matter where you are, he can nap comfortably.

Buy Bedding
Back to Guides Directory