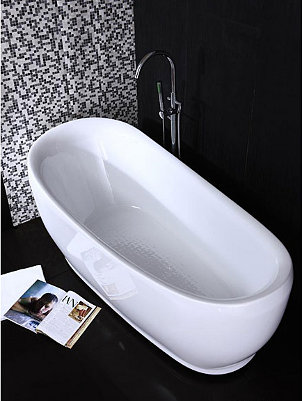 Your bathroom can be a relaxing retreat with the right decor and bath fixtures. The center of any relaxing bathroom is the bathtub. Nothing melts away the stress of a hard day better than a luxurious soaking in a warm tub. When designing a new bath or remodeling an old one, you have several choices of bathtubs. Here are the five main categories of bath tubs to give your imagination a design jump-start.
Bathtub Categories:

Traditional bathtubs: These are the typical molded bathtubs that you see in most modern homes, enclosed by walls on three sides. The remaining side is usually enclosed by either a shower curtain or a sliding door. Typically, they're made of plastic, but many built-in tubs are made of enamel-coated steel. The shower and faucet fixtures are usually built into the wall on one end of the bathtub.

Soaking tubs: If you're looking for a luxurious bathing experience, soaking tubs are the way to go. These bath tubs are longer and deeper than traditional tubs, allowing you to more fully immerse yourself while bathing. They usually rest on the floor of your bathroom and can be installed without a walled-in enclosure. In a soaking tub, you have much more room to stretch out and relax than in a traditional bath tub.

Clawfoot tubs: Clawfoot tubs bring a bit of that old-world charm to your bathroom. These bathtubs get their name from the porcelain or metal feet that hold the tub above the floor. This not only provides style, but it also prevents the heat from the water in the bathtub from seeping away through cold floor tiles.

Whirlpool tubs: These bath tubs take luxurious bathing to a new level. With built-in jets and sometimes more than one person, whirlpool tubs are designed to wash away tension and massage weariness from your muscles.

Walk-in tubs: These bathtubs are designed so that you don't need to fully recline. They are much deeper than other bathtubs. A watertight door is built into the side of the bathtub, which allows you to get in without needing to lower yourself in. This convenience is ideal for those with lower back pain or other limitations. Walk-in bathtubs also feature most of the benefits of whirlpool tubs, like massage jets.

Buy Tubs
Back to Guides Directory