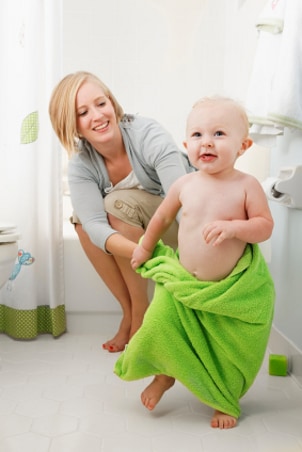 Make your bathroom more kid-friendly by decorating it with accessories that make bath time a pleasure rather than a chore. Picking bath accessories that you normally might not gravitate toward is the key to create a kid-friendly space that is fun to be in. Bright colors and crazy patterns might not be for everyone, so feel free to keep it simple by incorporating a few kid-friendly pieces into your existing decor. Below, you'll find a list of a few products that might help spice up your bathroom for kids of all ages.
Top Kids' Bath Accessories:

Decorative shower curtain hooks. Replace your standard clear or metal curtain rings with decorative ones to deck out your bathroom in a theme. Whether you choose bold starfish for a beach-themed bathroom or want to keep it elegant with subtle flower-shaped hooks, replacing the hooks is a simple way to upgrade your shower curtain.

Mosaic mirror frames. Imagine how much easier it will be for your children to brush their teeth when they have a fun mirror to peer into. Mosaic mirrors outlined with colored tiles make your bathroom look kid-friendly and modern at the same time. These mirrors attach to the wall and are easy to replace once your kids are grown.

Fun shower curtains. The quickest way to add pizzazz to your bathroom is to hang a new shower curtain. They also give you the most design control. If your bathroom is all about your kids, indulge them with a character shower curtain that has scenes from their favorite children's movie. If you're aiming for a bathroom that is decorated with kids and adults in mind, stick to something that employs geometric shapes for a whimsical feel that isn't too childish.

Scented bubble bath. To make bath time more fun, keep a bottle of bubble bath handy in your bathroom. Look for mild bubble bath made for sensitive skin that smells good to children. Scented bubble bath for kids can entice your children to love bath time.

Character towels. Colorful character towels can do double duty as poolside blankets and daily towels. You can hang these trendy towels on a towel rack if they match your bathroom or tuck them away in a linen closet for out-of-sight storage.

Buy Bath Accessories
Back to Guides Directory