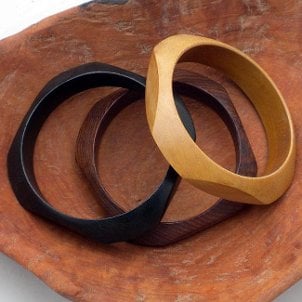 Bracelets are fun and can fill your jewelry box with color, luxury and sparkle. If you are shopping for bracelets, consider bangle bracelets for their effortless and trendy style. Handmade bracelets and bangle bracelets easily slip over your wrist or open on a hinge, so throwing them on with anything is simple and fun. You can wear a stack of gold bangles with jeans when you go out for the evening or try some beaded bangles with other fashion bracelets and bohemian jewelry. Consider our top five bangle bracelet trends when you are shopping for fashion jewelry.
Trendy Bangle Bracelets:

Beaded: Beaded bangles are making a comeback with the current bohemian trends and can be worn casually or formally. Beaded fashion bracelets are usually colorful and budget-friendly; they are great for easily adding a lot of life to your wardrobe. Beaded bangles come in many sizes. Choose a bangle with large beads if you want to really make a statement or select a bracelet with tiny beads if you want a versatile piece of fashion jewelry.

Gold: Gold bracelets never go out of style, and they are very trendy at the moment and go well with the nature-inspired clothing trends and heavy-metal styles that are currently popular. Gold bangles are luxurious and can be had in many different price ranges. You can splurge on a decadent 14k gold bracelet with diamonds or treat yourself to a stack of budget-friendly gold-plated bangles.

Bicep: Bicep bracelets are incredibly sexy and can create an exciting Egyptian style. Gold bicep bracelets and silver bicep bracelets are the most popular and can be worn with jeans and a tank top or a casual khaki dress. Bicep bracelets shaped like snakes and bracelets with bold geometric patterns are unique and flirty.

Leather: Leather is very trendy at the moment, and leather bracelets allow you to indulge in the trend affordably and subtly. Leather braided bangles, bangles with leather details and leather cuffs go well with both business attire and jeans and can also be worn on dressy occasions. Consider brown leather cuffs for a natural vibe or black leather bracelets for tough and masculine accessorizing. Colorful leather bracelets are also available.

Handmade: Handmade jewelry is incredibly popular at the moment, and you can indulge in the trend with handmade bracelets. Choose from handmade bracelets crafted of metal, beads, leather, gemstones and fabric. Handmade jewelry is also unique; many pieces are one-of-a-kind bangles. Handmade bracelets are often environmentally friendly, and each handmade piece is crafted by a jewelry artisan.

Buy Bangle Bracelets
Back to Guides Directory