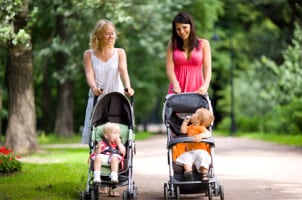 Any new parent can tell you: A baby stroller is one of the best pieces of baby gear you can buy. Not only do strollers make things easier and more convenient for Mom and Dad, but baby will also love going for walks in one. Once you've purchased a baby stroller, however, it's time to focus on keeping your baby safe during your morning walks or while running errands. Read on to learn the top five baby stroller safety tips.
Stroller Safety Tips:

Use the right stroller: One of the easiest ways keep your little one safe in a stroller is to use the proper stroller for the activity you've planned. If you're taking a morning jog, a jogging stroller is the safest option. Similarly, if you're need something convenient, a lightweight umbrella stroller is a better option than a bulky stroller. If you have more than one small child, always use a stroller designed to accommodate multiple children.

Test stability: One of the most common stroller accidents involves a stroller tipping over with a baby inside. Ensure the baby stroller you purchase is secure and stable by testing it. Without your baby in the stroller, try placing heavy bags in the storage basket on your stroller or hanging a bag from the handles and make sure the stroller doesn't tip over. Test the wheel locks on strollers and jogging strollers on hills to make sure the stroller doesn't roll away.

Never leave unattended: Never leaving your baby unattended in a stroller can prevent most stroller accidents. It's impossible to practice stroller safety if you aren't around. Never let your baby stroller out of your sight and always keep a hand on the stroller to ensure that it doesn't roll away or tip over.

Use safety features: Strollers are outfitted with a variety of stroller safety features, including buckles, wheel locks and even sun shades. Using stroller safety features will help you keep your baby as safe as possible while in his stroller. Always buckle your baby securely in a stroller, use wheel locks when stopped and pay attention to how your baby is acting in his stroller. If your baby is fussy, check to make sure he is comfortable, that the sun isn't in his eyes and that he's buckled in properly.

Weight guidelines: A key baby stroller safety tip is to always adhere to stroller weight guidelines; this includes weight limits as well as minimum weights. Most babies need to be a certain age and weight to use an umbrella stroller, while other strollers may have a maximum weight limit. Always make sure your baby is within the stroller's weight limits before using a specific stroller.

Buy Strollers
Back to Guides Directory