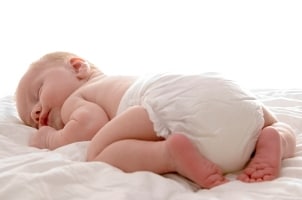 Having a baby is an exciting time, and shopping for baby products will only get you more excited for the arrival of your baby. With so many baby products available, however, it can be hard for new parents to know what their baby needs and what to buy first. The following list of the top 5 baby products for new parents to buy will help you determine what to buy first when you start shopping for baby.
Top Baby Products to Buy:

Crib: You'll want to make sure your baby has a safe, secure place to sleep, and a crib is just that. Although some parents choose to use a cradle or bassinet for the first few months, all babies will eventually need to sleep in a crib, and many do from birth. A baby crib with a firm crib mattress is the safest way for baby to sleep, and a crib is the central piece of baby furniture in the nursery. You can also shop for nursery furniture sets, which usually include a crib, changing table and dresser.

Stroller: Strollers are an important piece of baby gear because they give you a convenient, safe way to transport your baby. Whether you're running errands or want to take your baby along for your morning jog, you'll want the right kind of stroller to protect and transport your child. There are many styles of stroller out there, from standard strollers and jogging strollers to strollers designed for use with multiple children, so determine your needs and purchase the best stroller for your lifestyle.

Car seat: A good car seat is one of the most important pieces of baby gear you can have because it protects your baby while you're on the road, and there are strict laws enforcing car seat use. Newborn babies will need rear-facing infant car seats, and older babies and toddlers will graduate to front-facing car seats and booster seats. Many convertible car seats are available that you can reposition from rear-facing to front-facing seats as your baby grows. Look for car seats with the best safety features to assure your baby is as safe as possible in the car.

Diapers: Every parent will want to stock up on plenty diapers for their baby, making diapers one of the most essential baby supplies. Babies go through several diapers a day, so you'll want to have plenty on hand at all times. Stock your diaper bag and changing table with all the baby products needed for changing your baby's diapers, including diapers, wipes and diaper cream.

Baby clothing: When you're shopping for baby supplies, don't neglect cute little baby clothes. Babies need plenty of baby clothing to keep them warm, comfortable and, most important, looking cute. You'll likely also need to change your baby's clothes several times a day. Be sure to buy plenty of the baby clothing basics, including baby body suits, sleepers, hats and socks.

Buy Baby Products
Back to Guides Directory