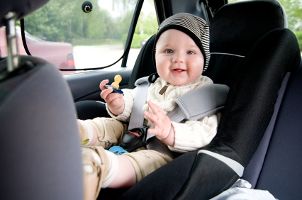 Safety comes first, but car seats can also be made more comfortable and even entertaining with car seat accessories for your baby. When you strap your little one into his car seat, whether it is for that first ride home from the hospital or a trip to the supermarket, make the trip more pleasant for you and your baby with the right car seat accessories.
Best Car Seat Accessories:

Seat covers and pads: There are lots of car seat covers and car seat pads you can choose from when you're accessorizing a car seat. A fleece or shearling seat cover can help keep your baby warm during colder months, and a waterproof car seat pad can protect against spills and leaky diapers. Look for infant car seat covers that act like a canopy, protecting your baby from the elements and giving him a quiet, dark place to sleep.

Strap covers: It's important to properly buckle your baby into his car seat every time you take him in the car. However, the straps of a car seat can be a little uncomfortable for your little one. Pad the straps with soft car seat strap covers. Strap covers are padded, soft and many even come in cute designs for your baby to look at.

Newborn cradler: Even with an infant car seat, newborn babies may need a little extra support, especially premature infants. A newborn cradler attaches to your car seat and fits snuggly around your baby so he doesn't slide around in his car seat. Car seat cradlers come in a variety of shapes and styles, from padded bumpers to shearling cozies, all designed to keep your infant snug and comfortable in his infant car seat.

Mobile and toys: Keeping your baby entertained on the road is one of the best things to do to make the drive easier for both of you, no matter how long or short the trip is. Toys are one of the most fun car seat accessories to buy. Attach a mobile to the car seat or a fun play center to the back of the seat in front of your baby. He'll have fun playing and you won't have to worry about looking back to check on him as often.

Sun shade: You wouldn't want to drive without your sunglasses on a bright day; give your baby the same protection with a sun shade. Look for car sun shades that attach to your car window that you can install next to your baby's car seat, or a sun canopy that attaches directly to the car seat itself. You'll protect your baby from harmful UV rays as well as bright sunlight shining in his eyes while you're on the road.

Buy Car Seat Accessories
Back to Guides Directory