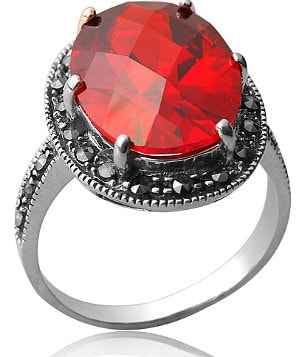 An engagement ring is a much more personal choice than some advertisers want you to believe. It isn't just about picking the biggest diamond and the shimmeriest setting. An engagement ring represents your relationship. Your wedding rings will be something you wear every day, so it is also important that an engagement ring represents your personal style. To avoid becoming a cookie-cutter bride and a run-of-the-mill wife, choose a unique engagement ring. Unique and interesting wedding jewelry speaks for your artistic side. To find the perfect unique engagement ring for your engagement, start with these top 10 unusual engagement rings and choose the wedding rings that speak to you and your partner.
Unique Engagement Rings:

Fancy diamonds: If you have your heart set on diamond wedding jewelry but don't want a standard white diamond, consider fancy diamonds. Fancy diamonds are colored diamonds and can add the perfect touch to wedding bands and bridal jewelry. Pink diamonds and yellow diamonds are popular in unusual engagement rings, but blue, black, chocolate, champagne and green diamonds are also great options for unique bridal jewelry.

Alternative gemstones: Diamonds aren't the only stones allowed in engagement rings and wedding bands. Gemstones offer you an interesting and colorful alternative to diamonds in any piece of jewelry. Pearls, coral, aquamarines, emeralds, sapphires and rubies can make your unique engagement ring more meaningful to you.

Intricate settings: A basic solitaire setting is common for engagement rings, but a variety of other settings exist to make your wedding jewelry more unique. Three-stone diamond rings are lovely and luxurious, while pave settings make a big impact without a big stone. Tension settings are especially eye-catching. Tension settings hold a diamond or gemstone in a cut in the band. Consider a variety of settings when looking for an unusual engagement ring.

Estate rings: Estate jewelry and antique jewelry have a lot of style to offer. A beautiful diamond or gemstone cocktail ring from another era makes a lovely engagement ring for today. Antique engagement rings carry the sentiments of the original bride and groom, connecting you to the past.

Industrial metals: Stainless steel, tungsten and titanium have made their way into the jewelry world. They are all very durable and offer a sleek and masculine aesthetic. Engagement rings made of stainless steel, titanium or tungsten are very interesting and unique.

No stone: Your engagement ring doesn't have to have a gemstone. If you prefer simple fashions, consider a unique engagement ring that features intricate metalwork or details to replace a gemstone.

Rose gold: White gold, yellow gold, platinum and sterling silver rings are lovely, but almost every bride has one. Rose gold offers you a precious metal in a distinctive package. Rose gold looks just how it sounds. Designers use a different alloy when creating rose gold, but rose gold still has the same amount of pure gold as white gold and yellow gold of the same karat.

Delightful shapes: Round, square and rectangular diamonds are standard, but many engagement rings feature diamonds and settings shaped like hearts, flowers and stars. These whimsical shapes will show off your playful side.

Just a band: An engagement ring doesn't have to be elaborate. Some women prefer a simple wedding band as an engagement ring.

Cubic zirconia: Cubic zirconias look identical to diamonds when viewed with the naked eye, and they are incredibly affordable. Cubic zirconias are eco-friendly, and you can be certain that they are conflict-free. Large cubic zirconias look lovely when set in white gold, platinum or sterling silver.

Buy Engagement Rings
Back to Guides Directory