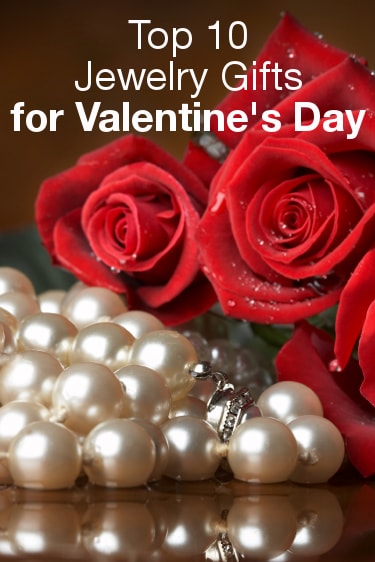 SHOP VALENTINE'S DAY GIFTS >>
Are you shopping for a Valentine's Day gift? You can't go wrong with a beautiful piece of jewelry. It's the perfect gift for anyone in a romantic relationship, and women of all ages love new baubles. Don't spend weeks trying to decide which jewelry gift is best this Valentine's Day; just choose something from this list.
Best Jewelry for Valentine's Day:

Gold charm bracelets: Gold is always welcome on Valentine's Day, but the addition of charms makes this gift special. A gold charm bracelet can be personalized with gold and silver charms, allowing you to create a truly meaningful Valentine's Day gift. Choose from yellow gold, white gold, and rose gold, as well as gold-plated bracelets.

Gemstone cocktail rings: Gemstones make an extravagant gift, but gemstone jewelry often seems old-fashioned. Cocktail rings are the trendiest pieces of jewelry at the moment, making them the perfect gift for her. Choose a gemstone cocktail ring in her favorite color, and you're sure to see her face light up on Valentine's Day.

Diamond tennis bracelets: If you choose to give diamonds this Valentine's Day, choose a piece of jewelry that is truly timeless: the diamond tennis bracelet. It's the staple of any luxurious jewelry collection. She can wear a diamond tennis bracelet with formalwear, business suits, or jeans.

Birthstone pendants: Birthstone jewelry is designed to represent the month in which she was born. Consult this birthstone list to find her stone, and then buy her a pendant necklace with it that she can wear every day.

Novelty earrings: For the unconventional woman, novelty earrings are the perfect Valentine's Day gift. Earring studs shaped like flip-flops, kittens, peace signs, skulls, butterflies, and cowboy hats let her show her personality on her ears. If you can't find the perfect pair, heart-shaped studs are always a safe jewelry gift choice.

Promise rings: Are you ready to show your commitment to your girlfriend and make your relationship exclusive? A promise ring is the perfect gift for Valentine's Day. These rings often feature pretty diamond and gemstone embellishments or engraved messages about your commitment.

Pearl necklaces: Pearl necklaces are timeless. They are just as fashionable today as they were hundreds of years ago. A classic strand of white pearls is a beautiful Valentine's Day jewelry gift, but you can choose something more unique if she has unconventional tastes. Black, grey, and blue pearls are very modern, and long pearl necklaces are featured in high-fashion looks.

Leather bracelets: Leather is as durable as your love, making leather bracelets a good romantic jewelry choice. If she has a laid-back style, she'll really appreciate a leather cuff bracelet that she can wear with jeans and T-shirts.

Estate jewelry: Estate jewelry is antique jewelry or vintage jewelry from an estate sale. These pieces are generally very ornate and may be decorated with unusual and exclusive gems. Antique cocktail rings and pendants make romantic Valentine's Day gifts.

Angel wings: Jewelry featuring detailed silver and gold wings is very sweet. Look for earrings, pendants, and charms shaped like angel wings. Pair angel charms with heart charms on necklaces and bracelets for a Valentine's Day gift she'll definitely remember and want to wear every day.

Shop Valentine's Day Gifts
Find the Perfect Gift in Our Gift Center
See All Guides
Read More Holiday Guides
Get More Valentine's Day Gift Ideas
Published January 5, 2011
Updated February 13, 2015