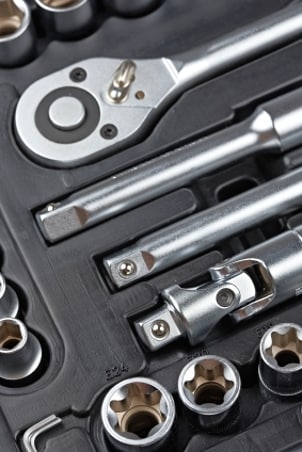 The right tools help nearly any job get done faster. A good toolset of basic hand tools will get you pretty far. It also doesn't hurt to have some power tools to save time and effort on repetitive tasks. As you work on different home improvement projects, your tool collection will continue to grow. This tools buying guide from Overstock.com will help you understand what tools you may want to look for and how to find quality tools that will last.
Buying Tools:

Power tools: Both corded and cordless power tools are great for getting jobs done quickly. Power tools can also include gas-powered tools, such as a lawn mower or weed whacker. The first rule for buying power tools is to buy quality tools. A high-quality cordless drill or miter saw will serve you well for years if well-maintained. Here are the power tools that you may want in your workshop:

Essential Power Tools

Drills: A multipurpose power drill with a good torque rating will let you put holes in just about anything. It's also good to have a decent set of drill bits on hand.

Saws: Whether you're cutting lumber, drywall or other materials, power saws can save you a lot of time. This category includes jigsaws, table saws, reciprocating saws, circular saws, steel cut-off saws, chain saws, concrete saws and radial arm saws. Each type is used for specific cutting tasks.

Routers: Routers are used for cutting, carving, sanding, polishing and grinding wood and other materials. You can gradually pick up various router bits for shaping or get an entire bit set.

Sanders: These power tools are used for smoothing surfaces in woodworking or automotive work. Sanding power tools can quickly give you a very even surface.

Lathes: A machine tool which spins a block of material to perform a variety of operations such as cutting, sanding, knurling, drilling or deformation. Along with lathes, you may need shaping hand tools, like chisels and gouges.

Yard power tools: This covers any power tools used for landscaping and yard care. Check the power of the motors for these tools, as well as the hardness of cutting edges.

Air tools: Air tools, or "pneumatic" tools, operate using compressed air. Air tools have several advantages over electric power tools. The compressed air gives air tools more torque and power than is usually possible with an electric motor. With fewer moving parts, pneumatic tools tend to last longer as well. Here are some air tools you may need for most home improvement projects:

Essential Air Tools

Air compressor: The compressor holds air under pressure, which powers your air tools. The PSI rating of the compressor must match that of your air tools. Compressors with adjustable pressure levels will allow you to use tools with different PSI ratings.

Air compressor: The compressor holds air under pressure, which powers your air tools. The PSI rating of the compressor must match that of your air tools. Compressors with adjustable pressure levels will allow you to use tools with different PSI ratings.

Air Hoses: Hoses supply pressure to your air tools. Rubber hoses are common, but braided or woven hoses can offer more durability.

Air drill: Air drills quickly drive screws and drill bits with reliable and constant power.

Pneumatic hammer/chisel: Powerful air hammers allow you to shape or break up metal and masonry quickly and easily.

Paint sprayer: A sprayer produces quick and even coats, which is great for large-scale jobs. Check for ease of cleaning and ability to use paints and stains with varying viscosity.

Power nailer and stapler: Compressed air is great for driving nails and heavy-duty staples. Look for high-capacity nail and staple magazines.

Ratchets and wrenches: Impact wrenches provide accurate tightening and loosening with steady torque. Usually, these are used in automotive settings.

Sander, grinder and buffer: These air tools are powerful, fast and produce even smoothing or buffing.

Battery chargers and boosters: Jumper cables and battery chargers can mean the difference between being stranded on the side of the road and having a reliable startup. Keep more than one set of jumper cables; leave one in your car for emergencies and one in your garage. This is one tool no one should be without.

Drill bits: If you have the wrong drill bit, you could ruin the material you're drilling or even the drill bit itself. The harder the material, the harder your drill bit should be. Low-carbon steel bits work fine for drilling softer wood, but you may want high-speed steel, titanium or tungsten carbide drill bits to work on hardwood or metal.
Ideas from Overstock.com:

Tool sets make great gifts. DIY enthusiasts love expanding their tool collections, and basic toolsets are perfect for new homeowners and students going away to college. For those who already have extensive tool collections, tool accessories like drill bit sets can be a welcome gift.

Keep your garage or workshop in perfect running order with tool storage and organization. When everything has a place, each piece is easier to find. Pick up a tool box or workstation to keep your tools organized and clean.

There is a world of difference between a professional and a beginner. You want to use your new tools, but you're unsure of what you want to do. Learn how to do it yourself with home improvement books from Overstock.com. Browse our selection of home improvement books and DVDs and find instructions and ideas for projects. You'll gain experience and enjoy the sense of accomplishment from building or fixing something yourself.

Buy Tools
Back to Guides Directory