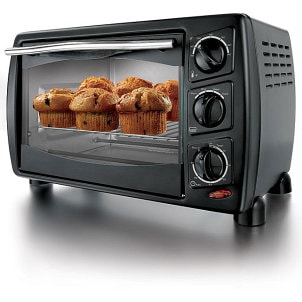 For all your toasting and lots of your baking, toaster ovens can't be beat. Toaster ovens combine the versatility of a traditional oven with the reheating capabilities of a microwave oven. Toaster ovens are efficient, energy-saving small appliances for lots of cooking applications. Even if you already have a toaster and a microwave, you may find that a toaster oven offers many additional conveniences. Keep reading to learn more about your favorite kitchen appliance.
Toaster Oven Facts:

Space considerations: Toaster ovens are smaller than traditional ovens and take up less counter space than microwave ovens. However, you may need to leave a few inches between the back of the appliance and the wall. Generally, the best toaster ovens will be small enough that they can easily be moved from a cupboard or pantry shelf to the counter and back as needed.

Convection option: New toaster ovens sometimes include a convection fan that cooks food by spreading the heat more evenly in the cooking environment. With a convection toaster oven, you can make your food crispy and perfectly browned without heating up the whole kitchen with your regular oven. Convection toaster ovens are rarely found on the low end of the price range, so if your budget is tight, you may want to skip this option.

Maintenance: Be sure the entire unit is cool before cleaning it. If the interior is coated in nonstick material, avoid using harsh cleaners that will remove the nonstick coating. Instead, clean the inside of the oven using soap and water. The best toaster oven will have a removable crumb tray and will be easy to clean if you wipe it down regularly.

Safety issues: Like toasters and other countertop appliances, toaster ovens can get very hot and should be placed out of the reach of children. If you have children, look for a toaster oven that features a cool-to-the-touch exterior. Because toaster ovens can be a fire hazard, choose models that include automatic shut-off features.

Energy consumption: Most toaster ovens operate using 1,500 watts compared to around 900 watts for a traditional pop-up toaster. While this difference means toaster ovens may require more electricity to toast bread, this small appliance is energy efficient when compared to an electric oven. A standard electric oven uses 7,500 watts of energy. That means you could conserve energy by using a toaster oven for your small baking or cooking jobs.

Buy Toaster Ovens
Back to Guides Directory