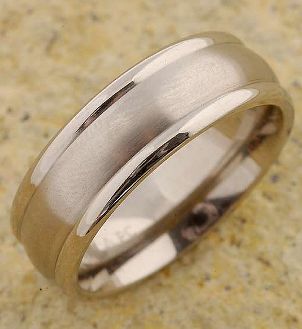 Titanium, the ninth most common element in the earth's crust, is common and prized in the jewelry world. Titanium is known for its durability, beauty and affordability and is popular for use in wedding bands and other types of jewelry. Used in nearly its pure form, titanium is versatile and strong. Titanium rings, bracelets, necklaces and earrings are great titanium jewelry options. Titanium jewelry is relatively affordable and has become a popular metal in the fashion world.
Titanium Jewelry:

Appearance: In its natural form, titanium is grey. Titanium jewelry selections such as wedding bands and men's rings are often polished to a satin luster, soft-brushed finish or a highly polished silvery shine. Titanium can be colored a variety of hues with an anodizing process. Blue, purple, bronze and black anodized titanium is common in jewelry.

Features: Titanium jewelry is resistant to corrosion and is a hypoallergenic option for people with metal allergies. Titanium is extremely durable; it is as strong as steel but is more practical for many purposes because it is 45 percent lighter. Its strength offers consumers a great jewelry option, and though prong settings cannot be fashioned from titanium, decorative etching, grooves, engravings and a variety of other stone settings are common, particularly in titanium rings.

Jewelry selections: Most shoppers probably think of men's wedding bands when they think about titanium jewelry. Titanium wedding bands come in many different styles and other titanium rings with intricate designs are also available. Titanium earrings are good options for anyone with metal sensitivities and titanium necklaces and bracelets are unique, durable and stylish. Titanium body jewelry is also popular because it is hypoallergenic and has a rugged style.

Care and cleaning: As your titanium jewelry ages, a natural satin patina will form over the surface to protect the metal. Your titanium wedding band, earrings or necklace pendant might become scuffed over time, but minor scratches can be removed from high-polish titanium with cream metal polish. Rubbing a fine nylon pad on the surface of soft-brushed titanium will remove scuff marks. Anodized, colored titanium will temporarily fade from a buildup of soap residue and body oils. To restore the color, soak the jewelry in ammonia glass cleaner for three minutes, and then rinse in warm water. A jeweler can easily buff, polish and shine a titanium ring that has lost its luster.

History: Deposits of titanium are found in the minerals ilmenite and rutile in Australia, Canada, India, Norway, South Africa, Ukraine and the United States. The sun, moon and meteorites all contain titanium. In 1910, American chemist M.A. Hunter produced pure titanium. Titanium is a practical metal that has a history of being used in aircraft and naval production. These facts appeal to many consumers, especially men who are shopping for wedding rings.

Buy Titanium Rings
Back to Guides Directory