by R. Lindley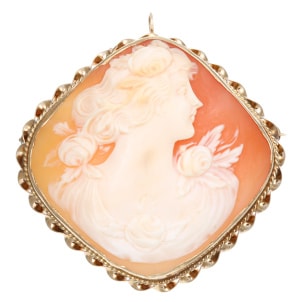 Vintage estate jewelry is often elaborate and always beautiful. These sparkling pieces are a lot of fun to wear, and they also transition well into personal accessory and home decor objects. Vintage jewelry items such as rings, bracelets, necklaces, brooches, earrings and pins are unlike any other accessories. If you love the dazzling look of vintage jewelry, then you might consider wearing and displaying estate jewelry in unique ways.
Vintage Jewelry Tips:

Wearing vintage jewelry is a little different from wearing modern run-of-the-mill accessories. Because vintage estate jewelry tends to be more elaborate and bolder than contemporary pieces, wearing these items takes a little extra thought. One of the best ways to be certain that you are wearing your vintage jewelry in a fashionable way is to avoid wearing all of your vintage jewelry at once. Vintage jewelry is best paired with more understated pieces. One extremely large brooch or ring can be worn with one or two other simple items, while two medium-sized pieces, such as a pretty ring and antique pendant, can be worn together, depending on the occasion and the style of your outfit.

The unique style of vintage jewelry allows you to display such items in new and interesting ways. If you are looking for exciting and different ways to wear your vintage jewelry, then you might consider thinking outside the box. Vintage brooches, for example, can be worn on hair accessories such as headbands, barrettes and ribbons, while antique necklaces can be worn as belts or as charms on handbags and other accessories. If you have a piece of antique jewelry that you like but want to alter, consider minor changes to turn it into a new accessory. Vintage earrings that are missing one of their mates can be turned into necklace pendants, and cameo brooches can be attached to velvet ribbons to create chokers and bracelets. You might even try attaching several brooches to one piece of ribbon for a beautiful way to display many vintage collectibles.

Vintage jewelry can easily be turned into home decor items and displayed to all your friends and family. If you have vintage jewelry items that you have grown tired of wearing, then you might consider retiring them in style by turning them into items that you can use to decorate your home. Brooches, earrings and pendants can be affixed to picture frames, mirrors and even decorative pillows for a unique way of adding your personality to any space. In addition, vintage rings can be used as napkin rings when setting a fancy table for any occasion. Thinking outside the box will allow you to incorporate many different kinds of vintage jewelry pieces around your home.

Buy Estate Jewelry
Back to Guides Directory