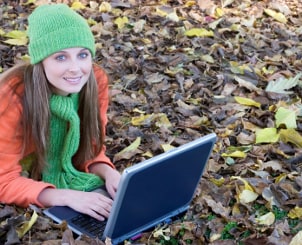 When you take your notebook computer to school, you can take notes in class, work on homework between classes and access class materials and the Internet anywhere on campus. Here are some tips on how to get the most out of your laptop while you're at school.
Notebook Tips for School:

Find a sturdy laptop backpack. Add a backpack or shoulder bag to your back-to-school shopping list. Even the lightest notebooks add weight to your bag, which is probably already loaded with textbooks. Look for a laptop bag with padded shoulder straps for comfort and a double-stitched design to prevent tearing.

Get acquainted with the wireless networks in your neighborhood. You may come across many new wireless networks when you first get to school. Some will be accessible automatically, especially ones labeled "wireless hotspots." However, the school network will probably require some sort of authentication, sometimes the same information you use to log into computers in the lab and to register for classes. Depending on your operating system and your laptop's software, your laptop may store passwords once you have entered them, but it may only remember how to log into a limited number of wireless networks before you have to make room for new ones. Connecting to new wireless networks is easy if your notebook is wirelessly enabled; just click on the network symbol in the task bar, choose the network with the strongest connection and enter the password, if one is required.

Keep a USB flash drive on hand. You may need to transfer files from your notebook to a computer in the lab or in a classroom. Always keep a USB flash drive in your backpack so you will be ready. Make sure you label it with your name and cell phone number in case you lose it.

Back up your data. You never know when a file might become corrupted or your hard drive will crash. Murphy's Law says that the worst will happen right before you turn in a term paper that counts for half your grade. Regularly back up important files from your notebook to another device, like a thumb drive, external hard drive or cloud storage service. Read our guide on the top five ways to back up files on your computer for more information.

Scout out power outlets in your classroom. You may need to recharge on campus. Some older buildings may not have convenient electrical outlets for students toting their notebooks to class, but newer buildings are constructed with tech-savvy pupils in mind. Locate outlets on walls, in the floor or underneath desks to keep your computer charged during class. Very few college classes have assigned seating, so you can probably sit closer to an outlet on days when your charge is low, but you may want to check where the locations are on the first day in case students migrate to the same spot day after day.

Carry data cables with you. Class presentations will be impressive if you have a projector in the room that you can connect your laptop to. Keep cables in your bag, such as S-Video, HDMI and VGA cables. Check the available ports on your notebook to see which cables or adapters you will need to carry.

Buy Laptops
Back to Guides Directory