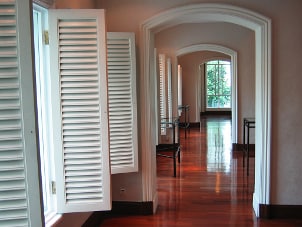 Part of the beauty of your home is your doors and windows. Good windows will let light in while keeping heat or cold out. Doors provide attractive entryways while maintaining insulation and security. After a number of years, your doors and windows will need to be updated, repaired or replaced. Here are some things to consider while shopping for new doors and windows for your home.
Updating Doors and Windows:

Consider different window frame materials. Window frames affect the appearance, durability and energy efficiency of your windows. Your choice will affect your windows and doors in different ways.

Framing Materials

Wood: Wood is a great insulator, so doors and windows made of wood have good thermal resistance. Check to be sure that wood fame windows are treated to resist humidity. Otherwise, changes in humidity will cause them to expand and contract.

Fiberglass: Fiberglass window frames are also great at insulating against temperature. They are extremely weather resistant and tend to be lightweight.

Steel: Doors and windows with steel frames are extremely sturdy. On average, they conduct heat really well, which isn't good for energy efficiency. Luckily, newer windows feature thermal break layers around the window frame that help reduce heat transfer.

Aluminum: Aluminum is an inexpensive door and window material, and much of it is recycled, making it a greener building choice. Aluminum windows have similar challenges and solutions for insulation as steel frames.

Set the tone for the rest of your home with the front door. Choose a door that introduces the style of the rest of the house. As the gateway to the interior of your home, the door is a kind of centerpiece that affects design inside and outside.

Choose door materials for security and style. Exterior doors can be wood, vinyl, steel or a combination. Wood exterior doors are the classic choice, but steel or aluminum doors are very sturdy and can be painted to suit your needs.

Door hardware is an effective accent. Door knobs may be door levers or door handles. Cast-brass door knobs, Victorian door knobs and ceramic door knobs are among the classic door hardware styles that mix well with nearly any wood, stained or painted. Simple nickel, chrome door knobs, oil-rubbed bronze and other finishes are not going out of style anytime soon.

Add security technology to your doors. Home keyless entry systems are becoming very popular. You will never be locked out again. Keyless door locks can use smart cards, a key pad or fingerprint recognition system. Adding keyless entry to your door and window security is just another way to enhance your home security.

Buy Doors and Windows
Back to Guides Directory