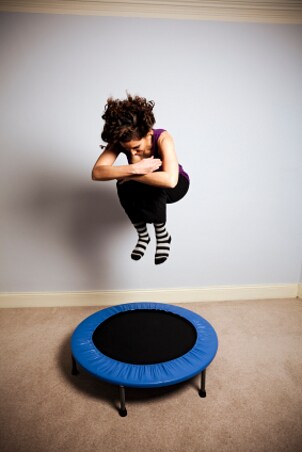 Bouncing on a trampoline offers more than just fun; it provides physical exercise and improves motor coordination. Trampolines range in size from small, personal fitness models to large bouncing surfaces that allow the jumper to perform advanced exercise skills while reaping the benefits of an aerobic workout. Trampoline exercise tones the muscles through low-impact rebounding, making it a beneficial choice for adults as well as children.
Trampoline Exercise Tips:

Select a trampoline that suits your needs. Mini trampolines, sometimes called "rebounders," provide limited jump height, making them suitable for most adults and increasing the aerobic benefits through higher frequency bouncing. Large trampolines provide increased jumping height, allowing the jumper to perform physical skills during time in the air.

Start with simple moves. On a mini trampoline, begin with small bounces with both feet to get the feel of the surface. Bounce in the middle of the trampoline for stability. As you adapt to the sensation, shift your bounces from one leg to the other, as if jogging. Add a lower-body twist to your workout by keeping your torso facing forward and rotating your hips and legs from one side to the other with each bounce.

Add arm movements to enhance your workout. Mimic "jumping jack" arm moves or hold a small hand weight in each hand and alternately move them to the front and the side of your body. You may also imitate a "jogging" arm move to raise the aerobic level of your exercise.

Try more advanced moves. If you have a larger trampoline and feel comfortable on it, consider adding some more advanced moves to your workout. Practice the seat drop. At the height of a jump, lift your legs in front of you and land on your rump, keeping your hands and arms crossed over your chest, and bounce back up to your feet. When you get the hang of this skill, try a knee drop. Bring your heels up behind you and land on your knees, keeping your hands up. Rebound to your feet. Add a twist to the basic seat-drop when you're ready for more challenge. Perform a basic seat-drop but instead of rebounding to your feet, swivel your body in mid air to land facing the opposite direction in another seat drop. You can also perform rotations with the vertical jump and the knee drop.

Buy Trampolines
Back to Guides Directory