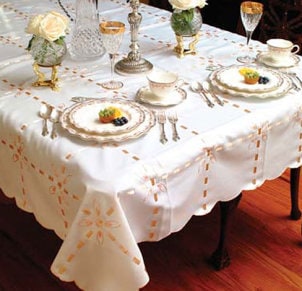 Adding linens to the table is an ideal way to create an enticing ambiance for the dining room during a special occasion or meal. Table linens are entirely appropriate for either a casual setting or a more elegant one. Consider factors like size, color and fabric before selecting the tablecloths, table runners, napkins, placemats and other kitchen linens that are right for you.
About Table Linens:

Color: The use of kitchen linens on the table allows you to get creative with a room, especially if you want to change the look and don't have the a budget for a total redecoration. Table linens come in virtually every color, and they are ideal to use for holidays, seasons or themed table settings. For winter holidays, table linens that are green, blue, silver, gold or red look festive, especially when paired with simple cream or white dishes. For spring holidays or get-togethers, consider pastel colors like lavender, pink, blue or green. For more elegant table arrangements or occasions, stick to white or cream-colored tablecloths and linens. Get creative with your kitchen linen colors, but keep table decor and dishes simple to avoid overwhelming those at the table.

Fabric: Look for tablecloths, table runners and other table linens that are made from natural fibers, since they tend to be softer and more luxurious in appearance. Linen and cotton are the two most common inexpensive fabrics for table linens, but they require more care to keep them looking good than linens incorporated with synthetic fabric like polyester or nylon. Table linens made of cotton require gentle washing and ironing to keep looking crisp and clean, while synthetic linens are easily washed and do not wrinkle as much. For longevity, natural fabrics are more durable and can withstand use for many years. When shopping for table linens, those made of simple linen or cotton fibers are the best quality and come inexpensive; however, for a more luxurious feel, Egyptian cotton and Irish linen are created from high-quality cotton or linen fibers, allowing them to be softer.

Drop length: The drop length for table linens indicates the amount of fabric that hangs down from table edges before reaching the floor. For a casual table setting, a drop length may be shorter, depending on your preference. If you choose to create an elegant setting, the table linens should be close to the floor, as this creates a more formal appearance. To determine the length of tablecloth or runner, you will need to measure the table. For common rectangular tables, add the length of the table and measure the height twice to get the ideal sized linen. If you have an oval or circular table, simply purchase a table linen in an oval or circular shape, keeping in mind the same technique for determining size or drop length. In order to ensure you are getting the ideal size, check packaging on the table linens before purchasing. Standard drop lengths for a rectangular table that seats eight people is 70 inches by 90 inches, while cloths for tables that seat between 10 to 12 are usually 70 inches by 108 to 126 inches, and those seating 12 to 18 people are 70 inches by 144 to 180 inches. Circular tablecloths range in size from 70 inches for tables seating four people to 90 inches for eight people and 108 inches for tables with 10 to 12 seats.

Buy Kitchen Linens
Back to Guides Directory