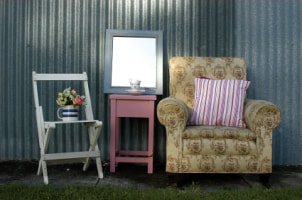 The very popular shabby chic decorating style goes by many names, including country cottage and rustic style. While these types of shabby chic home decor have slight deviations in terms of palette, patterns and finishes, the essential philosophy of shabby chic design is valuing well-loved and distressed items over new ones. Decorating in a shabby chic style might only involve adding a few repurposed shabby chic accessories, such as family heirlooms, do-it-yourself projects and flea market finds, to your home decor. Read on for tips on shabby chic decorating.
Shabby Chic Decorating:

Palette: Shabby chic home decor begins with a distinctive palette. Avoid jewel tones and dark, moody colors. Instead, opt for either icy pastels (a classic in shabby chic style) or muted, faded tones, which are popular in country homes. Antique white rather than bright white can provide a backdrop for shabby chic accents in faded cornflower blue, muted mustard, rose pink or sea foam green. Shabby chic designs include paisley, stripes, faded florals, fleur-de-lis and classic toile, a French textile that features dark silhouettes of nature, animals or people set against a solid, pale background. Buy furniture that features distressed or chipped paint for similar shabby chic ideas.

Furniture: A focal-point piece of shabby chic furniture can define a room. In the dining room or kitchen, a farmhouse-style table with wide wooden planks adds a rustic shabby chic feel. Use benches or metal chairs with mismatched cushions for other shabby chic ideas. In the living room, a faded chintz sofa can sit next to a low, round wooden coffee table painted in antique white or sunny yellow. Get a shabby chic bedroom with a wrought-iron bed frame. A pretty window seat with comfortable cushions can also help you create the shabby chic bedroom you want.

Decorative accessories: Shabby chic accessories can include authentic antiques or reproductions. An old birdcage from your childhood only needs some periwinkle or pink paint and a place on top of other shabby chic furnishings for new purpose. Vintage wooden drawers can become shelves if you paint them and nail them to a wall, and bookcases and other shabby chic furniture are perfectly suited to old-fashioned bottles and vases. Add artisan touches, including a distressed finish on an antique table, to your basic shabby chic furnishings for a different look.

Buy Home Decor
Back to Guides Directory