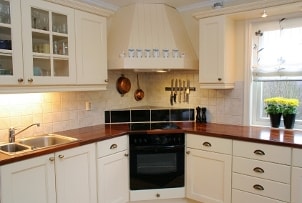 They may be small, but kitchen cabinet knobs have a big effect on the functionality and look of your kitchen. The color you paint your walls and the countertops you choose will set the tone for your kitchen decor, but cabinet knobs and pulls and other pieces of cabinet hardware can provide the perfect finishing accent to your kitchen. Today, you can find kitchen cabinet knobs in thousands of different styles and finishes; taking a little thought can help you sort through the masses of knobs available and find the style of cabinet knob that's right for your kitchen.
Selecting Cabinet Knobs:

Select the right style of kitchen cabinet knob. The first thing to decide may be whether you want actual cabinet knobs, or whether handles might be better options. As a general rule, knobs lend a simpler look to a kitchen (since they have a simple shape) and cabinet handles give a more ornate look to a kitchen. Once you've chosen between cabinet knobs and cabinet handles, decide which style you want for your cabinets. Knobs come in a wide variety of shapes and sizes. Knobs with simple shapes, like flat circles or squares, often work well in kitchens that have a modern look, whereas more ornate knobs go well with traditional kitchens. You can also find knobs in recognizable shapes, like flowers or grapes, for themed kitchen decor.

Select the right material for your kitchen cabinet knobs. Once you've chosen the right style, it's time to select a material. Knobs come in a variety of different materials, from several different metals to glass and wood. Faceted glass cabinet knobs and polished brass cabinet knobs can help your kitchen have a classic look. Knobs in steel or chrome, on the other hand, usually work very well with simpler kitchen or kitchens with a contemporary look.

Take installation into account. While the style and material of your cabinet knobs are the most important factors to consider when you're selecting cabinet hardware for your kitchen, taking a minute to think over installation may save you some trouble. If you are simply replacing old knobs with new ones, then chances are you can simply install your new cabinet knobs in the old holes. However, if you want to replace cabinet handles with knobs, keep in mind that the handles will probably leave two holes, and your cabinet knob may only cover one of those holes, meaning the other hole will need to be filled.

Buy Cabinet Hardware
Back to Guides Directory