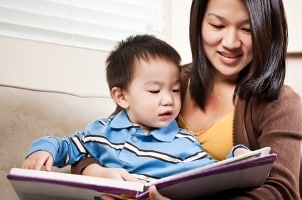 By every measure, reading is great for kids. Kids' books improve children's communication and comprehension skills with stories just for them. The key is to give them fun and engaging kids' books to read. There's no specific age to start reading with your kids, but you'll want to find age-appropriate children's books that will catch their imaginations and have them pestering you to read with them. Here are a few tips for finding books for kids that will make them love reading.
Selected Kids' Books:

Kids can read along with audio books. Watch for popular kids' books that include a CD with an audio book version. Children can then read along with an animated reading of the story. Many audio books will even tell kids when to turn the page. Not only is it a great way for them to read independently, but kids' books paired with audio readings can also help them learn to identify and pronounce new words.

Large type is easier for little ones to read. For smaller children, brevity is a virtue in kids' books. A long book with regular type will be harder for them to read and may not hold their attention. Large type allows your kids to more easily recognize letters and words. Look for children's books with a few lines of big text per page, coupled with engaging illustrations to keep a child's attention focused and the story moving. Large-text kids' books can help your child make the transition to more advanced reading, too.

Kids' picture books are ideal for toddlers. Tiny tots probably won't be ready for reading yet, so kids' picture books are ideal for them. You can flip through the illustrations and talk about how the pictures relate to one another. Kids' picture books also let your toddler make up his own story, which may be more entertaining anyway.

Introduce them to your favorites. Classic kids' books are classic for a reason. Chances are, your children will love the popular kids' books you used to read, and you may discover old titles or series that are now back in print.

Let them choose a book. Your little ones have their own personalities and interests. You never know which kids' books will catch their imagination. When shopping for kids' books online, let your kids help you choose a title that they can get excited about.

Board books will survive rough reading. Toddlers and infants can put a lot of wear and tear on a kids' picture book. Board books for kids are sturdy enough to stand up to the punishment and make great reading for quiet time.

Buy Children's Books
Back to Guides Directory