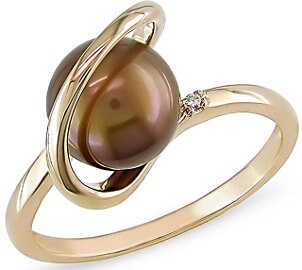 If you are looking for an engagement ring that will completely incorporate your personal style, then you might consider selecting a ring not marketed as wedding jewelry. Getting engaged doesn't have to mean wearing a cookie-cutter engagement ring that looks like everyone else's. Many stunning and unusual options are available. An original ring lets you be yourself while also showing the world that you are a treasured fiancee.
Selecting an Engagement Ring:

Consider a contemporary setting. Selecting a setting is often the first step in choosing an engagement ring. The prong setting is by far the most common design for this jewelry, but the tension setting is a good alternative. A tension setting holds a stone pinched in the center of the band. This setting lets light pass through the stone, like the prong setting, but is less common. Bezel-set diamonds, stones cupped in precious metal, form another design not usually found in engagement rings.

Select an unconventional diamond. Although round and princess-cut white diamonds are the most traditional stones in a diamond ring, a myriad of other choices are available. Diamonds can be cut into many shapes, some of which may reflect your style and taste better than others. Triangle-shaped trillion diamonds are beautiful choices for engagement jewelry, and they are also less common than other cuts. Diamonds are also available in many hues. Yellow, pink, blue, green, cognac, chocolate and black diamonds are all available in both fashion and wedding rings.

Don't rule out alternative stones. A sparkling colored gem or luminous pearl can take the place of the traditional diamond center stone. Consider having your birthstone or your partner's birthstone as the ring's focal point. Other options include rubies, which signify passion, or sapphires, which signify loyalty. Take your search beyond the wedding jewelry category and look for high-end gemstone, pearl or one-of-a-kind rings.

Choose something understated.Many women look forward to having a large engagement ring, but the option to choose something understated is still available. A simple gold wedding band with flush-set or channel-set diamonds is a wonderful choice if you do not wear a lot of jewelry or if you prefer a classic, tailored look. Bands with intricate designs or etchings are perfect for anyone who prefers an engagement ring without a stone.

Buy Engagement Rings
Back to Guides Directory