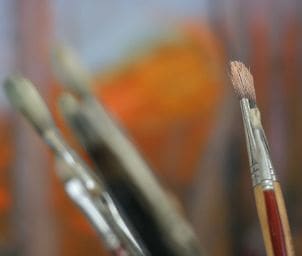 Whether you're an amateur or professional artist or simply enjoy using art and craft painting supplies for various projects, it's important to be familiar with acrylic paint and the various types that work best for your crafts. With a wide variety of acrylic paint colors, acrylic paint brushes and other acrylic paint supplies, it can help to have a few suggestions on quality paint products to follow. Read on for tips on purchasing acrylic paint.
Purchasing Acrylic Paint:

Consider your crafts. Acrylic paint supplies work best for durable projects, such as wood pieces, and are not a great choice for kids' crafts. While acrylic paint colors are water based, they can stain clothing and furniture, and they are not as easy to clean up as finger paints are. For older kids who are still learning to paint with acrylics, look for an acrylic paint set with student paints rather than purchasing a set of professional paints. You can also look for wide acrylic paint brushes for kids with little fingers to grip easily.

Purchase art supplies you can use for many different projects. Acrylic craft paint isn't just for strokes on canvas. Look for art supplies, especially craft paint, that are durable and colorful to paint accessories for your child's room. Buy acrylic craft paint to create a vibrant mural in your home or add color to a simple accent piece in your living room or bedroom. If you do use an acrylic paint set for traditional canvases or cloth, don't forget to purchase acrylic varnish, which will protect your finished artwork from dust and pollution. Acrylic varnish can also be used for simple projects, such as collages, to create a smooth, shiny finish.

Get acrylic paints that can be thinned easily. One of the greatest things about acrylic techniques is that the craft paint dries so quickly and the texture and thickness can be changed. Purchase acrylic colors that won't lose their binding capabilities when water is added and decide how thick you'd like your paint to be, since some acrylic techniques put emphasis on showing brush strokes in artwork. Many acrylic colors and art supplies also come in metallic styles, which can be fun for contemporary decor.

Buy Art and Craft Painting Products
Back to Guides Directory