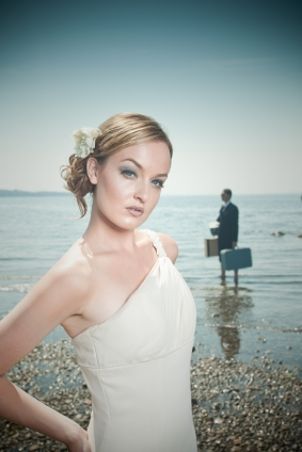 You've booked your honeymoon tickets, bought the right luggage for the trip and planned plenty of fun honeymoon ideas for your destination. Now you just have to figure out what to pack for the honeymoon. Whether you're heading to a honeymoon cabin in the woods or a beach honeymoon in a great tropical location, there are a few packing ideas that can help you create the best honeymoon ever. Read on for tips on packing for your honeymoon.
Honeymoon Packing Tips:

Check out weather and climate reports. If you've booked foreign honeymoon destinations, you should probably look up typical weather for that part of the world to be prepared. Even a beach honeymoon can be rainy and windy, so make sure you know what type of weather to expect. A lightweight but warm jacket, sturdy walking shoes and an umbrella will probably be good investments for honeymoon getaways in any climate, especially if you plan on spending a lot of time outdoors. Wear comfortable clothes for honeymoon travel and be sure to carry necessities in a carry-on bag.

Remember your passport. Many popular honeymoon getaways require a valid passport, even if you plan to simply travel over country borders. If you do not yet have a passport, find a passport facility near you, as the process of obtaining one can be lengthy. Make sure you also have any identification you will need once you reach your honeymoon destinations, as you may not be able to get into honeymoon hotels without it. If you do have a passport, make sure that it has not expired.

Pack a swimsuit and sunscreen. Even if you're headed for a remote honeymoon cabin, you'll still want swimwear and cover-ups, just in case. Your honeymoon hotels may include hot tubs or outdoor swimming pools, and you'll definitely want a cute suit if there's a beach nearby. Don't forget sunscreen, suntan lotion and mosquito repellent, as these can be hard to find and expensive in some parts of the world.

Include dressy or semi-formal attire. Romantic honeymoons often include luxurious dinners at formal restaurants, which may require a dress and a suit and tie. Even if your plans don't include a four-star cafe, you will still want at least one dressy outfit for other occasions, including dancing, attending a musical or other honeymoon ideas. Create the best honeymoon for both of you by including one evening where you can get dressed up.

Don't forget extras. Whether you'll be gone for just a few days or for a few weeks, the most romantic honeymoons include special touches to make everything perfect. Pack candles, flower petals, perfume and, of course, intimates for a vacation you'll never forget. Make the honeymoon travel more fun by packing books or magazines to look at or make a mix of love songs you and your new wife or husband can listen to together.

Buy Luggage
Back to Guides Directory