Tips on Necklace Lengths
by Stacy Goll
Published April 28, 2010 | Updated June 11, 2015
When choosing a necklace, it can sometimes be hard to choose the right length to go with your outfit. Fortunately, there are some basic guidelines. The standard chain length is 16 to 20 inches, which sits just between the base of the throat and the collarbone, for most people. And just like style, the correct length for you is based on personal taste. It's also nice to have different sizes and styles of necklaces on hand for different occasions.
Choose the Perfect Length: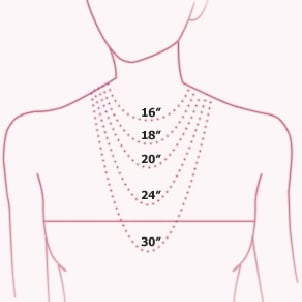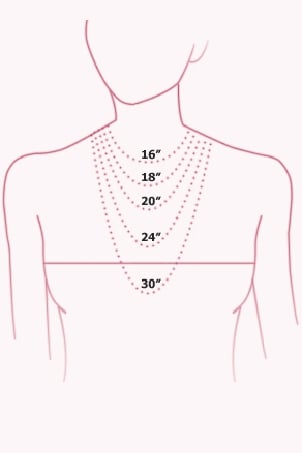 Shop Necklaces ▸
The Perfect Size for You

To find the ideal length for a necklace that will sit just above your collarbone, use a measuring tape to measure your neck and add 2 to 4 inches. This will help ensure a looser, more comfortable fit.

Measure for a Choker

If you want a choker, choose the standard size, which is 16 inches. For a more snug fit, measure the exact length around your neck.

Standard Sizes for Children

For children's necklaces, 14 to 16 inches is standard.

Match Jewelry to the Occasion

The jewelry should match the occasion or attire. For women, a longer necklace should be worn with a high neck such as a turtleneck shirt. A shorter chain works well with formal attire such as a dinner dress.

Necklace Sizing for Men

For men, the necklace should sit at the collarbone when it is worn with an open shirt collar. If worn with a pendant or medallion, the chain should be slightly longer. Men's chains generally measure between 18 inches and 20 inches in length for a necklace that will lie at the collarbone.

Classic Pearl Necklace Sizing

A formal pearl necklace shouldn't be too long or too snug; it should fit above the collarbone or just below the neckline for the best look. On the other hand, long pearl strands are a stylish option for less formal wear. Pearl necklaces that are 100 inches long can be worn wrapped around three or four times.

Go Long with Beads

While all necklace styles can be worn long, the beaded necklace is one of the most popular types for such a length. Long necklaces are good for petite women as the length creates long vertical lines, giving the illusion of added height. Try a necklace that's at least 30 inches long to get this look.