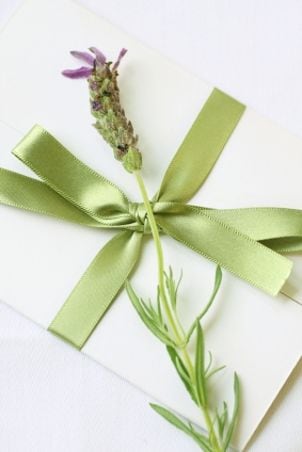 After you've set the wedding date and begun the wedding planning process, it's time to decide on wedding invitations. Why not save money for the ceremony and honeymoon by designing your own wedding invitations? Not only will you save on paper and printing costs, but you'll also achieve unique wedding invitations that will delight your guests. Read for tips about creating DIY wedding invitations with the right paper and other supplies.
Creating Wedding Invitations:

Decide on a format. Traditional wedding invitations usually include outer and inner envelopes, reception cards and response cards, in addition to photographs you may also include. If you would like simple and inexpensive wedding invitations, you can eliminate the extra envelope and any vellum or special paper traditionally included. You can also create handmade wedding invitations using blank folded cards to save on envelope costs or simply make postcards and skip the envelopes altogether for inexpensive wedding invitations. Choose traditional wedding invitations for a formal wedding and create whimsical handmade wedding invitations for a more laid-back wedding.

Purchase paper and envelopes. Once you have decided on a design, you'll need to buy plenty of stationery to create your DIY wedding invitations. Buy heavy cardstock for a classic look or look for parchment or lightweight paper for a softer feel. When you're gathering wedding invitation ideas, don't forget to buy vellum if you plan to protect the text or any included photos. When buying envelopes, be sure that your invitations will slide in easily and that you won't need to trim or resize anything. Find colored or patterned envelopes to complement unique wedding invitations, too.

Cross your t's and dot your i's. The wording of your do-it-yourself wedding invitations is very important. To make sure you write them formally for traditional invitations, look at friends' and family's invitations, or pull up wedding invitation ideas online. Formal invitations should have years spelled out, such as "two thousand ten," and also should spell out dates, times and street names, especially when including addresses. When designing do-it-yourself wedding invitations, you can decide whether you and your fiance will announce the marriage or have the bride's parents listed first, as per tradition.

Print invitations and calculate postage. Whether you plan to print the invitations yourself or have them printed professionally, you'll want to reserve plenty of time for printing during the wedding planning process. Consider printing a sample before creating the entire batch so you can make sure the font is appropriate, colors are true and that the fit in the envelope is perfect. You can also mail an invitation to yourself before addressing the other announcements to make sure they will arrive intact to your guests and that you have used the correct amount of postage.

Have a proper send-off. Once your invitations are printed, enclosed and addressed, it's time to send them to your wedding guests. Be sure to send them with at least a few weeks' notice, especially if you plan to have guests RSVP and need a head count.

Buy Wedding Planning Supplies
Back to Guides Directory