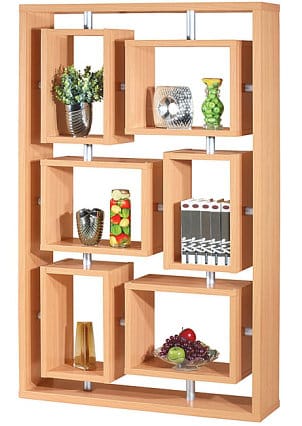 No house is complete without adequate shelving. There is no shortage of things to stock your shelves. But before you pack your shelving full of whatever junk you have laying around, why not use your shelving strategically to enhance your room decor? Packing shelving full of old magazines and ratty books might get them off the floor, but it sure does seem a waste of beautiful shelves. Whether you have wood shelves, wire shelving, wall mounted shelves, metal shelvingor bathroom shelves, here are some helpful tips on how to stock any shelving units with style.
Stocking Shelves with Style:

Take advantage of leather bound books. We're all familiar with the image of library shelves full of vintage leather bound books. Vintage books attract an air of sophistication and knowledge that can enrich any home. Although you might not have the space to install an entire library, you can turn your shelving into your own personal mini-library. Placing a number of vintage leather bound books together, separated from other shelf items by a bookend, is very stylish. Plus, if you ever need to install a secret passageway, you can place a discrete lever among the books and no one will be the wiser.

Liven up shelves with original artwork. Give your shelves some flavor by placing two or three pieces of original artwork on the top shelf. If your shelving is too tall for art placed on the top shelf to be seen adequately, put the artwork on any shelf at eye-level. Frame your favorite painting or drawing from a local art gallery or, even better, original work done by yourself or a close friend. The artist will be happy to be displayed prominently on your shelving, and it will give your shelves some life.

Use some decorative pottery. To enhance the refined look of your shelves, place a decorative pot or vase on the end of a lower shelf. You don't even need to put anything inside. Pottery is best for an aged, dignified look, while a vase can bring a chic, contemporary style to your shelving.

Take time for timepieces. Depending on your style, an old, restored or contemporary clock can be both useful and attractive on your new shelves. Place a timepiece on an upper-middle shelf to help it stand out.

Don't forget odds and ends. Shelving isn't just a convenient place to store books; it is a place to display the things you care about. Find something you would love people to see and place it on your shelf. Whether it is a vintage model car, a globe or a photo of loved ones, place it on your shelving for display. This will give your shelves a personal touch that will attract the attention and admiration of visitors.

Buy Book and Show Cases
Back to Guides Directory