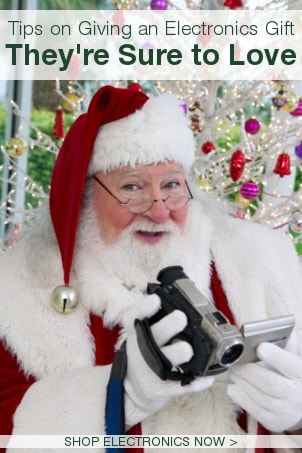 Are you looking for the perfect electronics gift? If you have trouble finding just the right thing, use these tips to help. After reading through them, you will be able to narrow it down to the perfect gift idea.
Gift-Giving Tips:

If you are able, take a look at what they already own. The electronics they already have are a good indicator of what they might like as a future gift. Make a list of categories like desktop or laptop computers, portable or mobile devices, home theater equipment, and others. Use the list as a shopping guide.

Have they talked with you about electronics they like? Strike up a casual conversation and make note of any gift ideas they may mention.

Ask their friends or co-workers for gift ideas the person talks about when you are not around. Don't be afraid to ask them to help you get information on the person's gift preferences, and it will throw your loved one off the trail.

Remember to find out what they dislike. Sometimes what they don't want is more important than what they do.

Be detailed. Ask what features they look for in certain electronics. A good way to trick someone into telling you their gift ideas is to ask their advice on gift ideas for "a friend."

Take note of which brands they like. Do they prefer specific brands for certain items? Shopping by brand can lead to a lot of gift ideas.

Are you the only one getting them a gift? Other people may have the same gift ideas. Coordinate with friends and family, so they don't get multiple of the same gift.

Comparison shop. Look at different models of similar items and compare features, prices, and reviews.

Avoid searching for gifts you would like for yourself. You might be interested in the same electronics, but you'll have much more success learning the gifts they like than hoping that you like the same things.

If by chance you can't find just the right electronic gift, you can always get a gift card. It lets them know you want them to get the gift they want.

Ask them! Gifts don't always need to be surprises. It can be just as satisfying to know that you are making an effort to find them an electronic gift that they need or want.

Find related gifts and give them separately. If you're giving them a new laptop computer, get some software or a wireless mouse to go with it. They will feel showered with gifts, and you can find several related gift ideas in one place by looking in the same category.

Enclose the original receipt or a gift receipt in an envelope, in case they need to return it. It's great gift-giving etiquette and can be a gift-saver if they already have that gift or they just want another color.

Shop All Electronics
Find the Perfect Gift in Our Gift Center
See All Guides
Read More Electronic Guides
Get More Electronic Gift Ideas