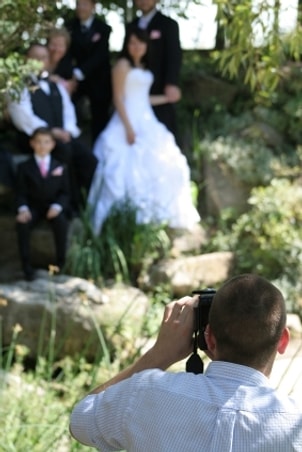 When you're in full wedding planning mode and want your big day to be absolutely perfect, one of the most important things to consider is booking a good wedding photographer. No matter how small your budget is, you can find professional wedding photographers that fit your style and your pocketbook. Read on for tips on finding a wedding photographer for incredible wedding pictures and memories you'll cherish forever.
Finding a Wedding Photographer:

Decide on a budget. Wedding photography can become costly and complicated, so make sure you set a fixed budget with your fiance before booking any professional wedding photographers. When picking a budget, you can also decide which pictures are most necessary. You may only need to hire photographers for wedding days, especially if you plan to have a friend or family member take your engagement photos.

Choose your location(s). You want the most beautiful engagement photos and wedding pictures possible, so a location that fits your tastes and the style of your wedding is crucial. If you're stumped on a great spot, pick a place that has meaning for you and your fiance or decide on a spot outside with a pretty landscape. The best wedding photographer will make you look great, no matter where you are, but interesting old buildings, city skylines and vintage cars and equipment are just a few backdrops that will add depth to your wedding photos. If you're getting married in a different country or far-away location, look for a destination wedding photographer who is willing to travel.

Look at portfolios for photo ideas. Before you have your wedding photos taken, check out other couples' wedding portraits and look at blogs and photographers' portfolios to decide which shots you like best. Consider printing sample images to show your destination wedding photographer, being considerate of copyright laws. Make sure you and your fiance make a list of styles you like for both wedding portraits and engagement photos, since your tastes may differ.

Set aside plenty of time. Getting the perfect shots and the best wedding photographer can take time, so make sure you and your fiance plan on at least half a day for a photo shoot. Wear clothes that will be flattering and comfortable during the wedding photography, especially if you'll be taking your pictures outside. Take a break from wedding planning and be sure to relax and have fun; your smile will be more genuine and your pictures will be stunning.

Buy Wedding Planning Supplies
Back to Guides Directory