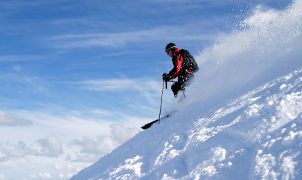 Dressing for a skiing trip can be a bit daunting. You want to look good, but at the same time, it is more important to consider your health and safety while on the slopes. Finding ski clothing that will keep you warm while protecting your hands, feet, eyes and overall body is not an easy task. Double check your bags to ensure you've packed all of the most essential men's ski clothing and women's ski clothing.
Dressing for Skiing:

Consider the climate. While you might think every ski climate is cold, nothing could be further from the truth. Some ski climates are warm and dry, meaning there isn't a lot of daily precipitation. In these instances, you'll want ski apparel that can keep you dry and insulated. In other areas, you'll find the weather is wet, with constant snow. If you ski in these areas, you'll want ski clothing that is not only warm but water-repellent or -resistant as well.

Check underneath it all. Believe it or not, cotton undergarments are not the best for skiing. You'll want to find undergarments made out of fleece, wool, silk or polypropylene. These materials keep you warm and dry and do not absorb much water, if any, if you fall in the snow. Cotton materials, on the other hand, slowly absorb moisture, making them heavy, cold and uncomfortable.

Pull out the pants. If you love skiing, you'll want to invest in a good pair of waterproof pants. They need to be large enough to fit over your ski boots and at the same time give you enough flexibility to bend at the knees and hips. Don't buy pants that are too tight. Women unable to find the right size in women's ski clothing, especially those who are very tall, can find longer and bigger pants in men's ski clothing.

Slip into your socks. Make sure the socks you wear on your skiing trip fit your feet well. You'll want them to be made out of a stretchable material so that they will not slide down into your boot and around your feet. Socks that do not fit properly not only make your feet cold but also bunch up and give you blisters, something you can't deal with while on the slopes.

Zip up your jacket. Your skiing jacket should be waterproof and windproof. The best type of jacket for skiing is one that has a removable inner lining because you can alter it to suit your needs on both cold and warmer ski days. Jackets are an important part of ski clothing.

Protect your head and hands. You'll want to take special care to keep your hands, head and ears covered while skiing. The cold air can quickly creep up on you, and those exposed areas of your body can quickly develop frostbite. Buy waterproof gloves to keep your hands warm, and make sure you have a snug hat or headband to cover your ears. The ski clothing section often offers jackets with built-in hoods, as well as fleece and knit caps.

Here comes the sun. Buy a pair of sunglasses or ski goggles and wear them all day. These are essential for skiing, because they will protect your eyes not only from UV rays and blinding spots on the snow, but from wind and blowing snow as well.

Buy Women's Ski Clothing
Buy Men's Ski Clothing
Back to Guides Directory