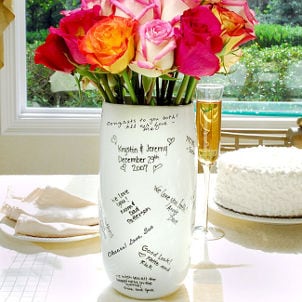 Whether you display photographs or bronze baby shoes, your keepsakes are important to you and fun to show off to friends and family. Why not present your collectibles in a creative way? With a few furniture pieces and some fresh ideas, you'll be able to make a statement with your keepsake gifts. Read on for tips on displaying keepsakes.
Displaying Keepsakes:

Pick up a few shelves. Mounted wall shelves are the perfect places to display baby keepsakes and photo keepsakes that show how much your children have grown. Paint old bookcases with a fresh white or bright yellow paint and use the top shelf to show off your baby's shoes and a keepsake album from his birth.

Use your mantle. The shelf above your fireplace is an excellent area for wedding keepsakes you want to show off. Place keepsake boxes and wedding photos on the mantle for guests to see, and consider including guest books and your wedding keepsake album in this collection, too. Make sure to keep photos and valuable keepsake gifts far from the edge so they aren't damaged by fires in your fireplace.

Place keepsakes above your cupboards. To keep priceless keepsake gifts out of children's reach but still display them in your home, why not use the space above your kitchen cupboards? Line the area with cloth to protect your baby keepsakes and keepsake books from dust and space your collectibles out so they can be easily seen in your kitchen. Figurines and photo keepsakes stand out especially well above cupboards if they're tall and colorful.

Make use of china hutches. A hutch doesn't have to be reserved for fine china. Display your keepsake books and custom wedding keepsakes, including your serving knives or ring bearer's pillow, in a hutch with windows for unique decor in your dining room. Graduation keepsakes, such as tassels or class rings, will also look nice in a hutch or cabinet.

Frame it and forget it. Don't store your keepsake jewelry in a boring box. Find a vintage photo frame and hang your grandmother's cameo locket against a blue velvet cloth for a great conversation piece. Chandelier earrings, bracelets and other keepsake jewelry pieces can also be framed, and stunning rings look lovely in shadow boxes, too. Make sure to frame graduation keepsakes, especially diplomas and certificates, so they are protected from damage.

Buy Collectibles
Back to Guides Directory