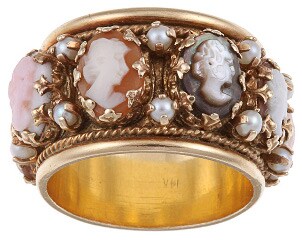 Jewelry offers you a way to express yourself in any situation. If you look to past decades for style tips and new music, consider investing in vintage jewelry. Vintage jewelry and estate jewelry can be paired with modern fashions or vintage clothing to create a look that is all your own. Antique jewelry doesn't have to be expensive, and it doesn't have to fit into specific fashion molds. A vintage cocktail ring or antique brooch will add diversity to your jewelry collection in a flash. Consider these tips when shopping for vintage and antique jewelry.
All about Vintage Jewelry:

Victorian-era jewelry: Victorian jewelry is very popular among estate jewelry and vintage jewelry. The Victorian era lasted from 1837 to 1901, under the reign of Queen Victoria in Britain. Victorian-era jewelry is known for being ornate, and many pieces have a nature-inspired design. Brooches and lockets are very common in Victorian-era jewelry. When wearing vintage Victorian jewelry, consider pairing the pieces with modern outfits and simple accessories to let the jewelry shine.

Retro jewelry: The term "retro" is often used to describe vintage-inspired clothing and accessories, but there actually was a retro period from 1945 to 1960. Retro jewelry was common in Hollywood movies and features very bright and bold designs. Favorite retro pieces include vintage cocktail rings, chunky bracelets and charm jewelry. Mix and match retro jewelry and vintage jewelry with fashion pieces in your collection to create a unique look.

Art Deco jewelry: The Art Deco period lasted from 1915 to 1935. Art Deco vintage jewelry is very popular among collectors and is prized for its minimalist designs. Long sterling silver necklaces and layered gemstone bracelets showcase the international style of Art Deco jewelry. Art Deco jewelry will go well with pretty much anything you own.

Estate jewelry: Estate jewelry is technically jewelry that comes from an estate sale. A majority of estate sales occur after a person has passed away, leaving a lifetime of treasures and antiques in their home. Estate jewelry is usually vintage jewelry and may be found from many different periods. Estate jewelry is often one-of-a-kind because pieces were frequently crafted with one specific person in mind.

Costume jewelry: Costume jewelry is similar to fashion jewelry. These pieces are usually affordable and accessorize an outfit for a season or two. Many pieces of costume jewelry are vintage-inspired to give you plenty of budget-friendly jewelry options.

Buy Estate Jewelry
Back to Guides Directory