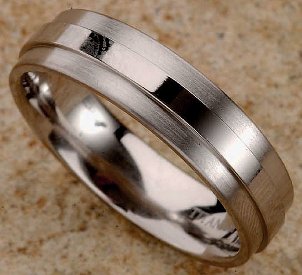 A wedding band is often the most important piece of men's jewelry, as many men keep their accessories to a minimum. It is important, therefore, to choose men's wedding bands that will be comfortable and that will showcase your personal style and go with everything in your closet. You have many options when shopping for men's bands, including wedding ring bands made of gold, silver, platinum, titanium, stainless steel and tungsten. You can also choose from men's wedding bands featuring diamonds, gemstones, engraving, inlaid designs and intricate details. It is important to select men's bands that will go well with your other men's jewelry pieces or watch collection. If the task of choosing men's wedding rings leaves you a bit confused, consider our tips for selecting men's rings before you start shopping.
Choosing Men's Bands:

Metal: Men's wedding rings are crafted from a variety of metals. Wedding ring bands made from precious metals, such as gold, sterling silver and platinum, are popular for their high level of shine and traditional appearance. Industrial metals, such as titanium, stainless steel and tungsten, are very durable and offer a masculine look. Gold and platinum men's rings are generally more expensive than sterling silver, titanium, stainless steel and tungsten, with sterling silver and stainless steel being among the most affordable men's wedding band options. Platinum, titanium, stainless steel and tungsten are hypoallergenic, which makes them good choices for men with allergies or sensitive skin.

Shape: You can choose from a variety of wedding band shapes. A comfort-fit wedding band incorporates a shape that minimizes contact between the band and your skin; comfort-fit wedding bands are a good choice for men who aren't used to wearing rings or other jewelry. A half-round wedding ring offers a traditional curved exterior and is a good choice for men who want a conventional wedding band. A pipe band offers straight edges and a flat top; pipe bands offer a more contemporary look.

Stones: Many men choose a plain wedding band, but men's wedding bands with diamonds and gemstones are available. Simple men's wedding bands with one small diamond are perfect if you want just a hint of sparkle while wedding bands with colorful gemstones in a pave setting add plenty of bling to your daily look. Men's channel wedding bands feature a row of inlaid diamonds; these wedding bands are popular because many women choose channel-set diamonds for their wedding band and some couples choose to have matching wedding rings.

Details: You might want a wedding band that is very simple and traditional, in which case you may choose to forgo additional details. If you want a wedding band that is more unique or ornate, on the other hand, choose the specific details that personify your ideal style. Beading, engraving and sculpting add a decorative edge or center to a wedding band. Some modern men's bands feature inlaid leather braids, two-tone tribal designs or spinner functions. Some metals, such as stainless steel and titanium, can be dyed a variety of colors. A blue, green, black or red wedding band is a unique choice.

Buy Men's Wedding Bands
Back to Guides Directory