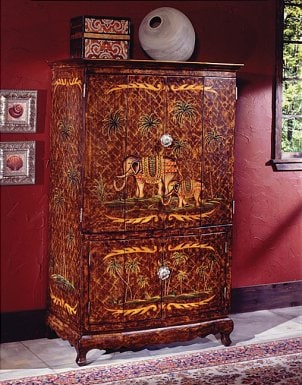 Once you have your new TV armoire set up, you'll be ready to make it a fixture in your home. A TV armoire is a great way to not only display your television, but also other decorations and household items. Whether your TV armoire comes with shelves or you just want to place a few items on the top surface, don't let it go undecorated. Here are a few ideas on what you can use to make your TV console the center of attention even when the television is turned off.
Decorating your TV Armoire:

Leather bound books: Nothing will grant your TV armoire an air of dignity quite like books bound in vintage leather. If you only have a small space or just the top surface of a TV armoire, just place a few leather bound books close together with a decorative bookend. If you have more space, don't be afraid to use your armoire to store a fair number of leather bound books. They'll add a layer of sophistication to your TV armoire, and you'll be proud to have them on display.

Potted plants: Add a dash of life to the top or shelving in your TV armoire with a potted plant. Choose a plant that is easily cared for so you don't have to shuffle the rest of the TV cabinet decorations around to tend to it. Plants with long green leaves look especially nice with a brown TV armoire.

Decorative pottery: Placing some decorative pottery at the end of a bottom row in your TV stand is an eye-catcher that will add an element of mystery. You don't need to put anything in the pot if you don't want to; just place it near the bottom to fill an empty space.

Candle holders: Candle holders look nice on a top shelf or on the top surface of your TV armoire. For some added personality add some semi-melted wax candles to them.

Photos and artwork: Adding framed photos or original artwork to a TV armoire will create a personal touch. Old black and white or sepia-tone photos of loved ones are especially compelling when combined with the elegance of a TV armoire. Place these items on an upper shelf at around eye level. TV cabinets immediately draw the eyes of visitors. Why not let them enjoy the view even more with original art and photos?

Buy Armoires
Back to Guides Directory