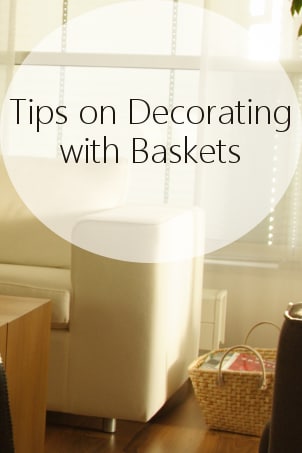 You can add texture and additional storage to your home when you decorate with baskets. Not sure where to start? Here are a few helpful hints on how to get the most out of baskets when decorating your home.
Ways to Decorate with Baskets:

Keep shoes hidden and out of the way. Baskets can be an excellent option for storing and hiding your shoes. Keep the entryway clear with a large wicker basket for everyone to put their shoes into. Or use smaller baskets stashed beneath a bench, one for each person in your family. You could even keep other items together in each individual's basket, like backpacks and briefcases. In addition to keeping down the clutter, these will also simplify the morning routine for you and your family.

Display fruits and vegetables in your kitchen. Woven baskets are perfect for storing a variety of fruits and vegetables anytime of the year. Not only do they give your kitchen a great look, but also provides easy access to a healthy snack. Try stacking your storage baskets perpendicularly so that both fruits and vegetables are peeking out. These decorative baskets will stack best against a wall or in a corner.

Add texture and storage to your home. Whether you want to store books and knickknacks, or leave them empty, baskets add visual appeal to any shelf or display. Look for wood baskets with crisp linen linings to update a hutch. Wooden baskets shaped as ovals or rectangles will also look nice above a TV cabinet. You can slide a few storage baskets made of seagrass on the top of a bookcase in your living room to hold CDs, DVDs, or video games. A rustic willow picnic basket can hold cloth napkins and extra silverware, or dress up the curio cabinet in your dining room.

Store firewood and newspapers. Sturdy wire baskets are great options for keeping firewood off your floor, especially when you'll be filling your fireplace frequently. Wire baskets can also display newspapers and magazines next to a sofa or beneath a side table. Large baskets with handles can also be excellent storage solutions for any room in your home.
What Do You Want to Do Next?

Shop Baskets
Shop Handmade Baskets & Bowls
Shop All Decorative Accessories
See All Guides
Read More Home Guides
Learn More about Home Decor