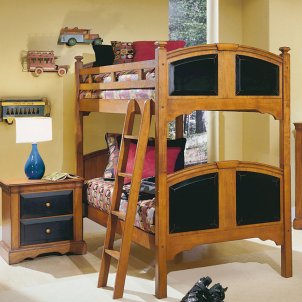 For many kids, having a bunk bed in their room is the stuff of dreams. Whether they share the bunk bed with a sibling or just use the extra bunk when friends stay over, kids enjoy the feeling of sleeping high up in the room, as if perched in a treehouse. However, bunk beds tend to dominate a room, making them challenging for integrating with a bedroom's decor. Consider your options in kids' beds, and then use some innovative strategies to make them look their best in your kid's room. Below, you'll learn some excellent tips on decorating kids' rooms with bunk beds.
Using Bunk Beds:

Bunk bed styles: While the classic bunk bed style of two platforms stacked on top of one another and joined by a ladder remains the most popular option, there are a few other choices that take up less space and have an interesting profile. The loft bed has beautiful style, featuring a top bunk with either a ladder or a slide to exit the bed. The lower level sometimes features built-in shelves or desks, but you may want one with more space for adding a bottom bed. You can install a bed with a frame or place a lower futon frame as the base for the bottom bunk. You can also place the bottom bunk at a perpendicular angle from the top bunk.

Bunk bed finishes: Many bunk beds come in a natural wood finish, although some modern, lighter versions are made of metal or even plastic. Choose a color or wood tone that will fit in with the design of the whoel room. A white bunk bed would look pretty in a bedroom decorated with light colors, like pink or light blue, while a bunk bed in a darker wood tone would feel more masculine.

Bunk bed themes: The size of bunk beds makes them any room's focal point by default, so have some fun by decorating your bunk bed. You can give a bunk bed a tropical look by suspending a mosquito net overhead. Transform a bunk bed into a treehouse loft by painting a forest mural around the bunk bed and twining plastic or silk vines around the bed posts. Ask your child for input and have fun!

Buy Kids' Beds
Back to Guides Directory