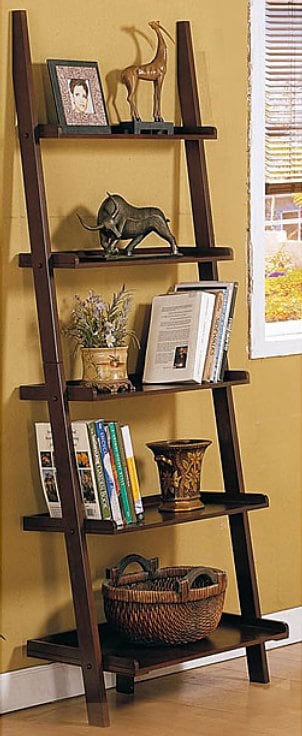 Whether it's a simple two-shelf bookcase or a floor-to-ceiling unit, a bookshelf can provide a very strong accent to home decoration. Unlike a complete room makeover or furniture rearrangement, changing and redecorating a bookshelf can be done spontaneously. It's fast and can be done using your existing home decor. With a few simple changes, your bookcase can become the focal point of your room. Take a look below for some tips on decorating a bookshelf.
What You Need to Know:

Think about what to display. Hobbies and collectibles are a great thing to display on bookshelves. Anything looks better as a collection, so bring out your old tea sets or soccer trophies and give them a place of honor in your home.

Group "like" items together. Arrange objects with similar shapes, textures or colors together to unify your display. Grouping together family photos or arranging books by color will have a bigger impact visually than having the same items spread out.

Try to create balance, not symmetry. Try laying some books down flat and using them as a book end to hold your other books straight up. Or try arranging things in odd numbers. If you have five vases you want to display, try three on one shelf and two on another. If you have floating shelves you would like to mount to your wall, try staggering them at different heights. Mix up the objects you are putting on your shelves so that not everything is the same height. Put a tall vase next to a short one or use a book as a riser for a small object.

Think about adding sparkle. Glass and silver pieces will make your shelves shine. Think about adding a mirror to create depth and enjoy the added benefit of making your other pieces glow.

Don't lose storage space. You can keep aesthetic appeal without losing functionality. Try adding large wicker baskets or a small rod and curtain to section off storage space. This is especially helpful in children's rooms, where you want to hide the clutter of small toys while still allowing easy access.

View All Media and Bookshelves
Back to Guides Directory