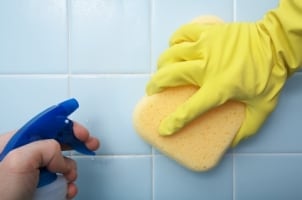 Bathroom tile is a classic, durable and practical choice for bathroom flooring and wall coverings, but even the most low-maintenance choices require some care and cleaning. If not cared for properly and regularly, bathroom tile can begin to accumulate soap deposits and even mildew, mold and bacteria. Clean bathroom tile at least once per week with some high-quality cleaning supplies, scrubbers and other cleaning equipment to protect the tile and keep it looking clean and new.
Clean Your Bathroom Tile:

Pre-clean with a spray cleaner. A basic all-in-one cleaning spray designed for kitchens and bathrooms will prepare the tile for cleaning. Scrub the tiles gently using circular motions with a sponge or scrubbing brush. Rinse the tile with warm water.

Use a bleach solution to kill mold and mildew. A solution of equal amounts of bleach and water can kill bacteria, mold and mildew buildup on the tile. Spray this solution onto the surface of the tile and scrub it away with a brush or sponge, using firm pressure and scrubbing in a circular motion. Rinse the tile with hot water.

Use a vinegar solution to clean grout. Grout is the area between the tile that typically accumulates most of the dirt, mildew and stains from everyday bathroom use. You will need a more powerful cleaning solution, such as 1/4 cup of vinegar, 1/3 cup of ammonia and 1/2 cup of baking soda mixed with 7 cups of water, to scrub this area clean.

Apply a soap scum remover. Soap scum can be difficult to remove with the standard bathroom tile cleaner, so if you notice any residue from hard water or soap on the tile, you can use a soap scum remover made with powerful cleaning agents such as lactic acid, alcohol, white vinegar or lemon oil.

Polish tiles with a soft towel. Buff the bathroom tile clean with a soft towel so that it is shiny and free of any remaining debris or dust. This final step will leave the tile gleaming and as good as new.

Buy Tile
Back to Guides Directory