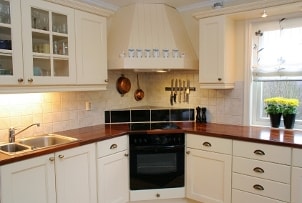 They might be small, but cabinet pulls have a big effect on the look of your kitchen. The style of your home and the mood you want to convey can both affect which pulls you choose. Here are some tips to help you choose cabinet pulls that can enhance cabinets in any room.
Cabinet Pull Tips:

Consider which materials will make for well-matched cabinets and cabinet pulls. Cabinet knobs and pulls are made from multiple kinds of materials. Mainly, you'll find drawer pulls and cabinet knobs made from metal, glass and crystal. With metal, you can choose cabinet pulls in nickel, pewter, chrome, stainless steel and bronze in varying finishes, such as satin or oil-rubbed. Metal is the most popular material for cabinet and drawer pulls, although glass looks beautiful in a traditional or contemporary kitchen, and crystal gives the room a vintage vibe.

The color and finish of your cabinet pulls can affect how they complement or contrast the cabinet doors. For instance, a dark, matte color can contrast nicely with a light cabinet paint. Brushed nickel cabinet handles can set off a stained wood grain rather nicely. Silvery stainless steel cabinet pulls and knobs look fabulous in a contemporary kitchen with dark cabinets.

Consider the shape. As you look for the right cabinet hardware, you will see a lot of variety when it comes to the shape of cabinet pulls. Cabinet pulls can be separated into cabinet handles and knobs, but some of the shapes can blur the lines between categories. Some cabinet knobs and handles are sleek and simple, while others include textured designs or flourishes. Shape can also affect the way light reflects off of your cabinet pulls, showing off colors and textures in the materials. Elegant lines and geometric shapes work well in more modern spaces, while cabinet pulls with basic flourishes and basic shapes work well in traditional kitchens and baths. Cabinet hardware with designs like grapes or apples might work well in country-themed spaces.

Combine knobs and handles. Use knobs on upper cabinets and handles on lower cabinets and on drawers. Just be sure they are the same color, material and finish. Not only will this add visual interest to your kitchen, but it will increase functionality, too.

Determine your budget and count cabinets. If you have a kitchen with many cabinets and drawers, the cost can add up quickly. Make sure to count how many you will need before you start shopping, so you won't be surprised by the final price.

Buy Cabinet Hardware
Back to Guides Directory