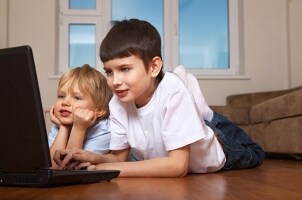 When it comes to PC gaming, desktop gaming computers are the workhorses of the industry, but you can have a mobile gaming experience with laptops if they have the right components. Gaming laptops do tend to be larger and heavier than their lightweight notebook counterparts, yet that seems a fair trade-off for their large screens and powerful computer graphics. Here are some tips for choosing gaming laptops that will let you take your games on the go.
Gaming Features for Laptops:

Tapered keys: Many laptop computer designs are moving toward flatter keyboard profiles. Although that can be stylish, it can make it harder to feel the individual keys by touch. Notebook computers with tapered, wide-set keys will give you a better tactile experience, so you can watch the action on your laptop screen instead of hunting for the right key.

Audio ports: The latest video games are encoded with amazing sound, including surround-sound effects that laptops with plain stereo speakers won't play. Laptops that have these additional audio ports can be plugged into a larger speaker system for a more immersive game-play experience.

Powerful graphics processors: Video games require a lot of processing power to produce rich interactive worlds. Desktop gaming computers will pack that power into one or more graphics cards. Some gaming laptops include graphics cards, but it's more common that the GPU will be integrated into the laptop motherboard. Be sure to check the hardware requirements on the games you plan to run and compare them to the specifications on the laptops you're considering.

Large screen: A large screen will let you enjoy the superior graphics that your laptop provides. Most gaming laptops include a screen of 15 inches or larger. If you plan to watch high-definition movies with your laptop as well, you'll want a minimum screen resolution of 1366 x 768 (HD) pixels or larger.

HDMI ports: You're not limited to using the power of your laptop on just your laptop screen. If your laptop has an HDMI port, you can use your HDTV as a display. HDMI can also port sound to your home theater system, giving you superior sound quality.

Firewire or USB ports: For serious gaming, you may want a separate keyboard and gaming mouse for better control. That means using external ports to plug your accessories into. Firewire and USB ports also allow you to plug external hard drives and memory sticks into your laptop.

DVD or Blu-ray disc drive: All that video processing power is great for playing your favorite movies. A Blu-ray disc drive or DVD drive can let you enjoy high-definition entertainment anywhere.

Buy Laptops
Back to Guides Directory