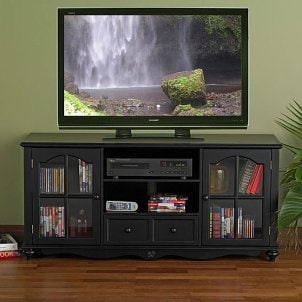 When it comes to a new entertainment center, you can save a bundle by shopping for discount plasma TV stands. When you're shopping on a budget or just want to save a few extra bucks, you can often find discount plasma TV stands with the same quality as TV consoles that aren't on sale. Whether you are looking for flat-screen TV wall mounts, a swivel TV stand, a TV armoire or any type of television stand, you can find cheap TV stands for your big screen TV without sacrificing style. When you are looking for discount plasma TV stands, here are a few tips to finding one that will be perfect for your home.
Choosing Plasma TV Stands:

Don't be hasty. It can be a strong impulse to pick up the first decent discount plasma TV stands you find. Instead of jumping the gun, make sure to browse a few media stands to compare against each other. You're sure to get a great deal if you are patient, so just make sure to check out the features of each discount plasma TV stand. Do you want a corner TV stand? Do you prefer oak TV stands or would you like a modern TV stand made of glass? Whatever you want, don't be afraid to see what is available before picking out the discount plasma TV stand that is right for you.

Read reviews. The best way to make sure your new discount plasma TV stand is up to snuff is to read reviews on it. Sometimes customer reviews are available for you to read, which provides a perfect way to find out if a certain television stand does well in the real world.

Visualize it in your house. When you've settled on a discount plasma TV stand, think about whether or not it will fit in the room in you have in mind. There are plenty of great TV consoles out there, so make sure to pick one that matches both your room decor and personal sense of style. Not only will you get a discount plasma TV stand with all the features you require, but you'll also be happy about the way it looks in your room.

Buy TV Stands
Back to Guides Directory