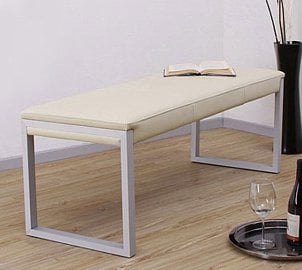 Benches, whether placed inside or outside the home, add charm and convenience to any decor. Many different types and styles of benches exist, from basic garden benches to benches made in the Louis XVI style. Knowing exactly which type of bench will work best isn't always easy. However, the task can become simpler if you think about both functionality and design. Look at the tips on choosing benches for every style below for some great advice on finding the right bench for you.
Benches for Every Style:

Extra storage: Having extra storage compartments and areas can always come in handy, no matter the size of one's home. If you need extra storage, try choosing benches with a hidden storage area under the seat. These storage benches most often have hinged lids that allow for easy access to the storage area. Not only does this piece of furniture offer extra storage, but it also offers a convenient place to sit. Many benches also come equipped with tall backs and hooks, making them perfect for entryways and foyers, as the hooks offer a perfect place for hanging coats and hats. Benches that work well in entryways come in many different styles, such as French country or cottage style.

Comfort and convenience: When looking for a comfortable, functional and practical piece of furniture, consider an ottoman bench. An indoor ottoman bench can be the perfect piece of living room furniture. These benches sport a padded top, making them useful as a traditional ottoman. Many ottoman benches are available in modern designs. However, ottoman benches exist in older furniture styles, as well.

Bedroom benches: When choosing a bench for the bedroom, think about the design of the other furniture in the room as well as the overall look you want to achieve. If you have chosen basic or plain furnishings, consider a simple park-bench style. However, if you have more elaborate furnishings, a traditional boudoir bench adorned with scroll-style arms might be the better option. If you choose to make the room open and inviting, try placing a modern backless bench at the foot of the bed. A backed, upholstered bench can also make a perfect reading chair. If the room that you are placing the bench in does not have a lot of usable space, a backed corner bench can fit into an unused corner and provide a comfortable sitting area.

Buy Benches
Back to Guides Directory