Tips on Choosing a Sofa Table
by April Sanders
Do you need to add function to your living room? Sofa tables can be placed between the sofa and the wall, where they provide a surface for lamps, books, or other objects. They also allow air flow from a radiator or heater vent that may be behind the sofa. This isn't the only way you can use these versatile living room tables. To pick the best sofa table for your space, follow these tips.
Choosing a Sofa Table: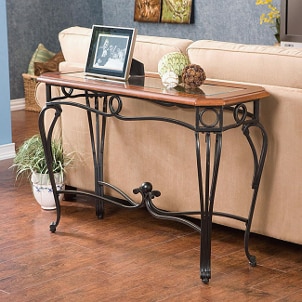 Shop Sofa Tables ▸
Placement:

Sofa tables are most often used behind the sofa, whether against the wall or not, as an accent table for photos and lamps, but they are also often brought out from behind the sofa. Use these slim, tall, and striking console tables as room dividers, in a foyer or hallway, or as a sideboard table in a dining room.

Size:

Measure the area where you plan to place your sofa table. If you use it behind a sofa, it should be level with the top of the couch. The table should not protrude beyond the edges of the sofa. Ideally, the sofa table will extend to about six inches short of either side of your sofa. Measure the width of the table. The wider the table, the more it will push your sofa out from the wall.

Style:

Consider where you want to place your sofa table when you're choosing what style and finish. The finish and style should coordinate with your other living room furniture; you can shop for table sets if you want to make sure all of your living room table match exactly. Tables behind a couch will not be very visible, so you might want to focus more on the table's surface. Sofa tables set out in the open are meant to be shown off as accent tables, and they typically have features like attractive hardware drawers and tapered legs.

Function:

Decide how you will use the sofa table. If you want it as a buffet or side table, purchase a sofa table that has shelves or drawers for storage. Some sofa tables are not designed with shelving, but do have a surface that runs along the bottom between the legs. This surface can hold functional baskets, silk plants, and large photos. Sofa tables with this second lower surface also make good console tables to place in a foyer or to divide sections of a room. If you need your sofa table to hold large or heavy items, consider a solid wood surface instead of a glass tabletop.