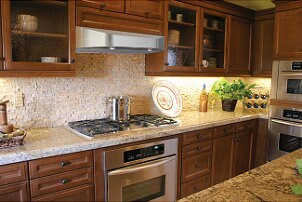 Designed to dissipate the smoke and odors that cooking on a stovetop produces, range hoods are essential kitchen appliances. Here are a few tips on finding a range hood that will fit your kitchen and give it an updated feel.
Range Hood Tips:

Measure to get the right size. Kitchen hoods can range in size from 30 inches to almost 50 inches. Measure the space above your range. If you have cabinets on either side, your range hood will need to fit between them. When you find a kitchen hood you like, consider how high you can install it and how far out it measures from the wall; you don't want to hit your head on your new range hood when you're cooking on the stove.

Coordinate the material with your other large appliances and your cabinets. Stainless steel range hoods are extremely popular because they are easy to clean and so durable that they look new even after years of use. Some manufacturers of stainless steel range hoods have started to add tempered glass to their designs, which make for ultramodern styles. Some kitchen cabinet designs include vent hood enclosures that match the surrounding cabinets. Look for vent hoods in white, black or copper to match your other large appliances.

Consider the overall style in your kitchen. Traditional kitchens will benefit from the simple straight lines of the tent-like vent hoods. More modern kitchens may do better with sharper angles contrasted by curving tempered glass.

Determine your installation options. If your range is not set against an exterior wall, you may not be able to have a range hood with a vent to the exterior of your home. Instead, consider a filtering under-cabinet model, which simply filters the air for grease, smoke and steam. If your range is on an exterior wall, you can cut a hole in the exterior wall and install the proper venting hardware to send the grease, smoke, steam and odors outside.

Consider the location of the range hood. Whereas most hoods are designed to be set against a kitchen wall and, therefore, have one side that is the back, island hoods are designed to be seen from all sides. Island hoods are one of the most easily visible parts of your kitchen, so choose one that is as stylish as it is practical.

Buy Range Hoods
Back to Guides Directory