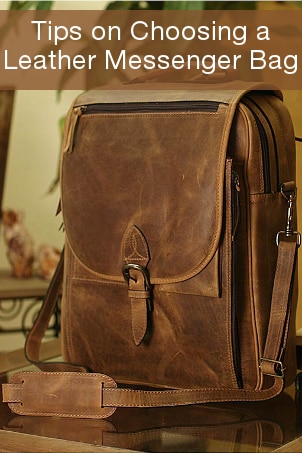 If you're shopping for a leather messenger bag, you're going to want to choose one that will last a while. Messenger bags come in a variety of shapes, colors, sizes, and styles, so selecting one that is right for you will take a bit of thought. Here are some helpful tips on how to choose a stylish bag that is made to last.
Buying Leather Messenger Bags:

Consider the leather: If you are shopping for a durable messenger bag, the leather is important. The higher quality the leather, the more durable the bag will be. But if you are on a budget, or if you simply prefer the look of a bag made of lower quality leather, just remember that you can still make your messenger bag last if you take care of it.

Leather Quality Levels:

Full grain: The most expensive leather, this has not been treated and will show all the natural imperfections.

Top grain leather: The most common type of leather, this has had the "split" layer removed to make the leather thinner and softer.

Corrected leather: This includes any leather where the grain has been buffed away to look smoother.

Bonded leather: Pieces of leather are glued together to form a larger piece.

Look for a simple design: The more hooks, zippers, buckles, and straps on a bag, the more opportunities there are for it to break. Usually these transition points between the actual leather are the most vulnerable point on the bag and undergo a good deal of strain. Instead of choosing a bag with a metal buckle or hook on every possible surface, why not keep it simple? You won't have to mess with complicated straps and hooks, and you'll minimize the chance of your leather messenger bag undergoing a debilitating or unsightly break or tear.

Shop with function in mind: Many leather messenger bags are built for a specific function. For example, many are large enough to carry a laptop computer or a few binders. Others are designed more for travelers to store on-hand items. Some offer a large number of pockets and pouches, while others are simple and compact. Whatever you plan to do with your leather messenger bag, make sure you are buying with that function in mind. Just because you like the look of a leather messenger bag doesn't necessarily mean it is the right bag for you. Make sure to check the dimensions and features of all the leather messenger bags you consider. Nothing will ruin a leather messenger bag quicker than jamming it beyond capacity.
What Do You Want to Do Next?

Shop Leather Messenger Bags
Shop Fabric Messenger Bags
Shop All Messenger Bags
See All Guides
Read More Luggage Guides
Learn More about Messenger Bags