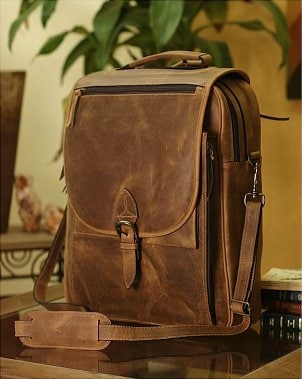 If you're in the market for a leather messenger bag, you're going to want to pick one that will last a good while. Messenger bags come in a variety of shapes, colors, sizes and styles, so selecting one that is right for your life isn't necessarily easy. Just in case you're on the verge of a leather messenger bag breakdown, we have some helpful tips on how to choose a stylish bag to last.
Buying Leather Messenger Bags:

In leather we trust. If you are looking for a durable messenger bag, you've already started at the right place. Leather has been used to make bags and other dependable items for hundreds of years because of its reliability. The material is tough yet soft, providing the wearer with a comfortable but sturdy way to carry their valuables. Better yet, quality leather is a handsome material whether it is used for leather messenger bags for men or women. Thanks to leather, you won't have to sacrifice style for a durable messenger bag.

Keep it simple. The more hooks, zippers, buckles and straps on a leather messenger bag, the more opportunities there are for it to break. Usually these transition points between the actual leather are the most vulnerable point on the bag and undergo a good deal of strain. Instead of choosing a bag with a metal buckle or hook on every possible surface, why not keep it simple? The classic look will help the natural attractiveness of the leather stand out; you won't have to mess with complicated straps and hooks and you'll minimize the chance of your leather messenger bag undergoing a debilitating or unsightly break or tear. Obviously, you won't be able to avoid all embellishments on your leather messenger bag, but simplicity is a good rule of thumb.

What are you packing? Many leather messenger bags are built with a specific function in mind. For example, many are large enough to carry a laptop computer or a few binders. Other leather messenger bags are designed more for travelers to store on-hand items. Some offer a large number of pockets and pouches, while others are simple and compact. Whatever you plan to do with your leather messenger bag, make sure you are buying with that function in mind. Just because you like the look of a leather messenger bag doesn't necessarily mean it is the right bag for you. Make sure to check the dimensions and features of all the leather messenger bags you consider. Nothing will break or tear a leather messenger bag quicker than jamming it beyond capacity.

Buy Leather Messenger Bags
Back to Guides Directory