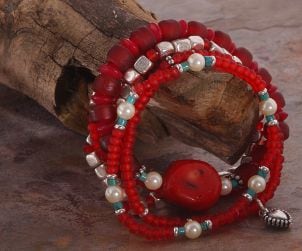 Beaded bracelets are fabulous jewelry accessories that can be worn with a variety of fashionable outfits and casual ensembles. Bead bracelets can be made with gorgeous gemstones, sparkling glass, kitschy plastic, natural wood and many other materials. Beads of different sizes offer beaded jewelry selections variety and style. Beaded bracelets are great for spicing up an outfit once in a while or wearing every day. You can give a bead bracelet to a friend or a romantic partner because beaded jewelry is versatile enough to suit all styles, and it is available in a wide range of prices. To keep your bead jewelry as versatile as possible, make sure you choose bracelets that will match your current jewelry and fashion wardrobes. Use these tips to shop for a beaded bracelet.
Choosing a Bead Bracelet:

Consider size: Bead jewelry is available in a range of sizes. When choosing a bracelet, consider your wrist size. The standard women's bracelet length is 7 inches. Longer and shorter bracelets are also available. If you are unsure about size or are giving the bracelet as a gift, consider bead bracelets on a stretchy cord. Elastic bead jewelry is guaranteed to fit almost anyone. Beaded cuffs and bangles are also good choices. Many bangles open on a hinge, and some cuff bracelets are adjustable.

Look at bead types: Study beaded bracelets carefully before purchasing. Bead size should be a consideration. Large beads are usually dramatic, while small beads are more delicate. Bead material is also an important choice. Gemstone and pearl bracelets are gorgeous and can add color to any outfit. Metal beads look sleek and contemporary on the wrist. Some designers use unconventional materials, such as rocks, wood or resin beads, to create distinctive jewelry looks. Choose the bead types that will add flash, glitter or color to a variety of outfits.

Contemplate extras: Many beaded bracelets are unique, with extra metalwork, gems and other decorative touches. Gold bracelets with beads can be whimsical or extravagant. The bracelet clasp may also enhance the style of the jewelry. A thick toggle clasp, for example, can bring heavy-metal style to your look.

Buy Beaded Bracelets
Back to Guides Directory