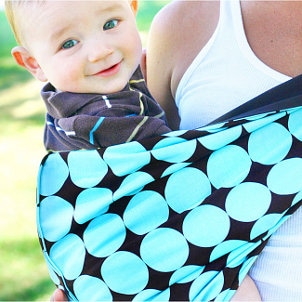 Baby carriers are great for so many reasons. Wearing your baby lets you be close to them while also keeping your hands free. Baby backpacks and carriers are one of the safest ways to take your little one out because they keep your child right there with you and they are perfect for activities such as hiking, riding public transportation and gardening. Let us help you find a baby carrier that will complement your parenting style.
Choosing a Baby Carrier:

Consider baby's age. Your child's age will play a part in choosing a baby carrier. If you are shopping for a baby carrier for your infant, then you will want to consider infant head and neck support. Baby slings and front carriers are good for infants and are also perfect for mothers who are breastfeeding. Older children, on the other hand, often prefer carriers that allow them a little more freedom and a great view of the world. Carriers and slings that are worn on the back or hip are great for toddlers.

Decide on carrier use. When choosing a baby carrier, it is a good idea to decide how you will use the carrier and what functions you will need. Backpack baby carriers, for example, are great for travel and outdoor activities, but you may not want to wear these carriers indoors on a regular basis because they can be bulky. Slings are more versatile, but some parents find them to be less comfortable when worn for long periods of time. Knowing how you want to use your baby carrier will help you make a smart decision during the shopping process.

Know about fabric and functions. When choosing a baby sling, fabric choice will be an important consideration. If your child has allergies or if you are looking to be environmentally friendly, you might want to purchase an organic baby sling. When shopping for front carriers and baby backpacks, look for carriers with padding or other comfort features such as removable head support panels. Some carriers also have rain covers to use in poor weather. Many baby slings and carriers are machine washable or have easy-to-clean fabric and parts. This is an important consideration when choosing a baby carrier.

Buy Backpacks and Carriers
Back to Guides Directory