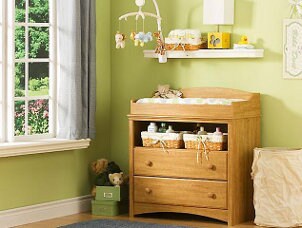 In addition to choosing a crib and a dresser, selecting a changing table helps new parents prepare for the arrival of their baby. Setting up the nursery is one of the most anticipated activities in preparing for a new baby. Finding changing tables that fit your specific needs is an important factor in designing your baby's new room. Just like other types of baby furniture, there are many different kinds of changing tables to choose from. Let us help you select one that will be perfect for you, your baby and your home.
Changing Table Tips:

Safety: Safety is the most important thing to consider when shopping for any type of nursery furniture. When you are shopping for changing tables, there are a few things you can keep in mind to make sure you get one that is safe and secure. First, look for a baby changing table with a wide base so that it cannot be easily tipped or pulled over. A changing table should also have solid, sturdy legs. If the table folds up, make sure that it has safety locks to keep it folded and unfolded.

Style: Baby changing tables are available in many different styles. Some new parents prefer a stand-alone table that doesn't take up a lot of space, while others like combination changing tables that have dresser drawers or cabinets and match the other nursery decor. There are also many portable changing tables available that can be moved from room to room or folded up and stored out of sight. The style and size of your little one's nursery, as well as your personal preferences in nursery furniture, will help you decide what type of changing-table design you want.

Functionality: When shopping for baby furniture, carefully consider function. You might like a changing table with storage for diapers, wipes, ointments and baby toys. Changing tables with baskets, shelves, drawers or cabinets are great for storing diapers, wipes, clothes and other baby items. You should also consider the changing pad you choose for on the changing table. Waterproof pads and machine-washable pad covers are great for keeping the changing table clean and sanitary.

Buy Changing Tables
Back to Guides Directory